Superfan Deniz Kosan wanted to open a coffee shop that would honour Breaking Bad. So he got cooking!
Recently Kosan opened 'Walter's Coffee Roastery' in Istanbul. You can't help but think how different Walt and Jesse's journey could've been if they decided to go down the coffee bean route instead.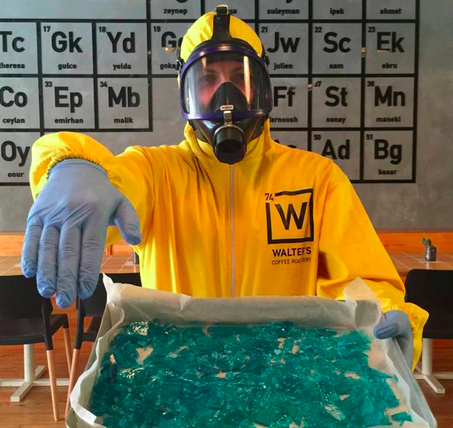 And although you might not find blue crystals or fried chicken restauranteurs at Walter's, you will find baristas in yellow jumpsuits, blue rock candy and lattes served in beakers.
Industrial size bean holders have been modeled after Walt's chemical tanks, so there's enough coffee for you to take a bag of BreakingBeans home.
And if you're feeling particularly hungry you can order a massive 'Walter's American Breakfast'. However, tense awkward family conversation is not included.