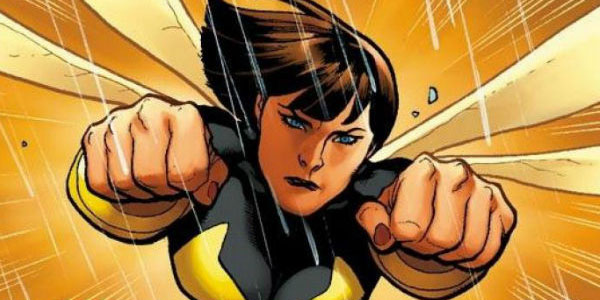 Style Saturday: Micro Fashion

I've been obsessing over Ant-Man lately. Okay, I'm obsessing over Wasp but still, the movie has really captured my imagination. It's the inspiration for this week's Style Saturday and we'll be looking at outfits that are ideal for any summer occasion, whether you're strolling through town on a warm Saturday afternoon or you're heading to a beach party or BBQ. Expect to turn heads with these insect-inspired looks!
Ant-Man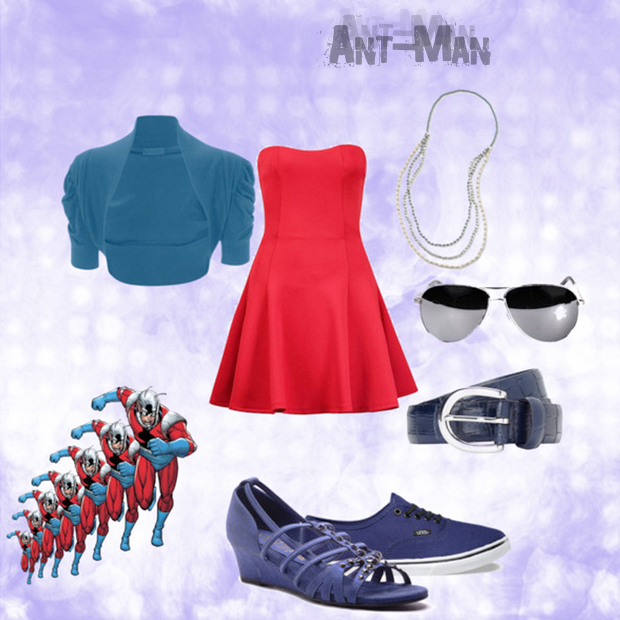 Okay, take a deep breath! With this outfit I've attempted to capture the three most prominent colours from Ant-Man's costume; red, blue and chrome. Before I get into the ensemble, let's look at the colours used here – the costume uses a nice sky blue in the globes and boots, but I felt these would clash with the red in the skater dress, so I've gone for much darker blues and navy here.
The essential item here is the red skater dress; it's the core of our outfit, much like the suit worn by Ant-Man. Everything else is used to highlight the dress and its colour so I've kept the accessories to a minimum, with everything from the shoes to the belt acting as an accessory.  The bolero I've chosen is probably the brightest shade of blue in the entire ensemble and I should mention it's entirely optional and can be slipped on and off, depending on the weather. The belt helps divide the outfit and the silver buckle helps to increase the division.
As this is a skater dress, you're going to need something to dress your neck and I've chosen a three-row beaded necklace. You're going to want some filler but you need to be careful not to wear too much. Avoid pieces that will clutter your neckline.
The outfit above has two options for shoes. I'm not suggesting you wear one of each (unless you want to… but don't do that!), but I couldn't decide which pair worked best for the outfit. The vans really bring the tone of the outfit down, so if you're just heading into town or heading over to a friend's house for some summer drinks, then go with these; comfort over style every single time! On the other hand, if you're heading out for cocktails on a roof terrace for a swanky work do, the sandals are perfect; they work very well to dress up the outfit but are still comfortable enough to wear all evening. I specifically chose to avoid heels for this look as we are, after all, trying to emulate Ant-Man!
Remember to shop around; while this outfit isn't going to break the bank by any means, you can definitely find the necklace in cheaper places. Check out Claire's Accessories or even Penneys!
Dress €23 Bolero €10 Sunglasses €6 Belt €14 Necklace €26 Sandals €27 / Vans €41
Total with Sandals: €106 
Total with Vans: €120 


Wasp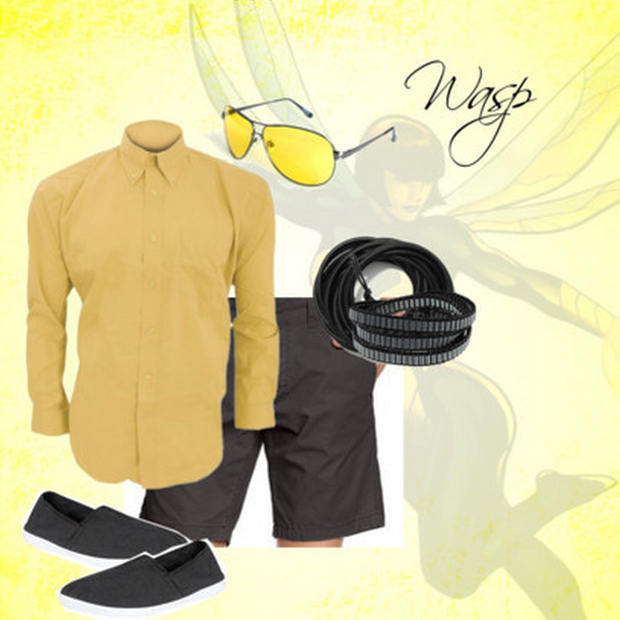 It's easy to fall into the trap of going down the black and yellow route with this outfit but Janet Van Dyne/Wasp is going to have a little more class. This outfit is pretty versatile so let's see where it's going to do, shall we?
Much like the dress for the Ant-Man inspired piece above, this outfit is centred around the yellow shirt and every other piece is built around it to make it pop. For that reason I've chosen a flat yellow; if you pick anything brighter, the rest of the outfit would make you stand out like a neon sign, unless that's what you want to go for. The sunglasses are a cheeky nod to that, though, and if you do want to add some extra colour, maybe look at mixing and matching your accessories.
The shorts here are above the knee and I'm trying to replicate the summer '15 ensemble. Most looks this year are carrying this style but if you're more comfortable in a longer style feel free to swap out, but try not to go for a baggy or loose pair. Aim for something with a nice straight line to keep the overall look from falling into a casual outfit. Swapping the shorts for pants in the same colour will let you pop this outfit on for the office. The vans used are a slight shade darker than the shorts and I've done something similar with the wrist accessories, going for jelly ring and bullet bands.
Remember I've tried to avoid just going down the simple black/yellow combo, as mixing dark greys, charcoals and blacks will help you here.
Shirt €21 Shorts €15 Sunglasses €3 Accessories €43 Shoes €14
Dear lord, the accessories cost the same as the rest of our outfit combined – for the love of Marvel, make sure you try to shop around here and you'll have the perfect Wasp inspired summer outfit that won't break the bank!
Editor-in-Chief, part-time super villain and hoarder of cats. If you can't find me writing, I'm probably in the kitchen!