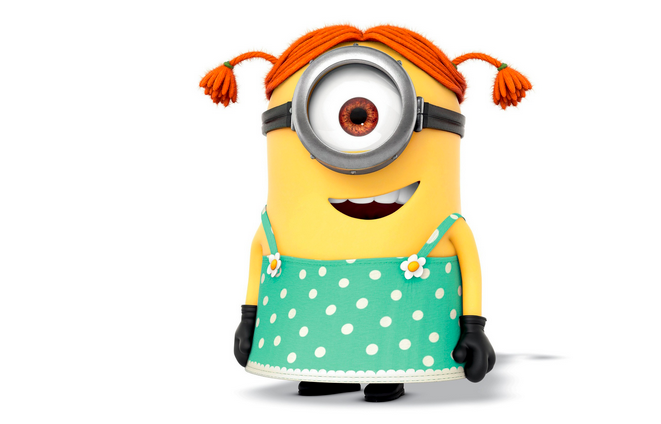 Style Saturday: Mellow Minions
After the heat wave of the past week (or Ireland's idea of a heat wave), we at The Arcade are doing our best to be optimistic and expect similarly glorious weather for the coming few days. For today's Style Saturday we've put together two casual looks for anyone still planning on catching the recently released Minions movie, or for any fans of the cute little mischief-makers. As a major Minions lover myself, I'm of the view that you can't reasonably leave the house without being kitted out in Minions-inspired threads, regardless of the weather.
When you hear 'Minions inspired outfit' you may think of someone running around a convention wearing a yellow hat with googly eyes stuck on with PrittStick, but today we're going for a look that's a little more wearable in every day life.
Girls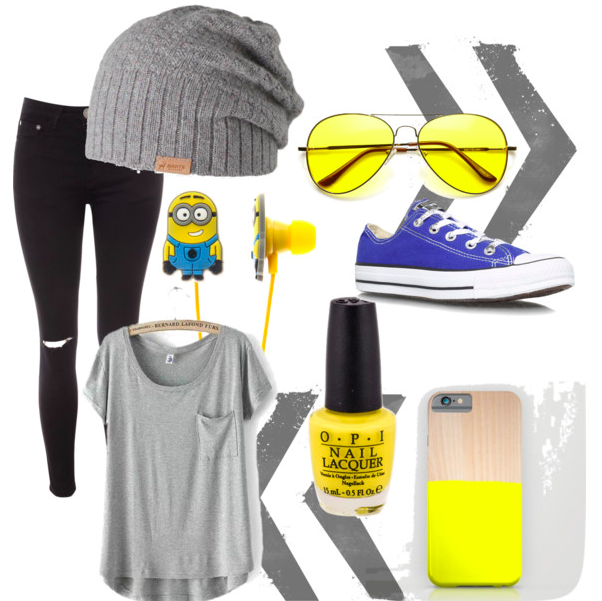 As you can see, it's not quite as scary as expected (although my editor, Declan, almost had a stroke when he heard this week's theme). Yellow is such a summery colour that it's a shame not to wear it as much as possible. Ireland can look really grey at times, despite being known for our abundance of greenery, so why not brighten things up with a bit of colour? I went for a pair of basic black jeans, as almost everyone has this item in their wardrobe (and if you don't, you should!), and picked ones with ripped knees as a little ode to the Minions and their accidents and shenanigans.
A loose grey top with a cosy beanie are great neutral colours to go for to tie the outfit together; when you're going for something as loud as electric yellow and bright blue, it's best to tone down the rest of your clothes, otherwise you may as well waddle around in an actual Minions costume. You don't need to head out the door with pictures of the characters on your top to have an inspired outfit, you just need elements of it throughout to achieve the desired effect. To complete the look, I decided to opt for yellow accessories like the sunglasses, phone cover and nail polish with just a pair of character ear phones for the really observant passerby to pick up on.
I think the best part of this look is that you can swap all of the accessories out and still have a totally wearable outfit for college without being at all Minions-related, should you wish it. Though why you'd want to is beyond me!
T-shirt €14.00 | Shoes €4.00 | Jeans €13.00 | Sunglasses €9.04 | Nail polish €6.56 | Phone cover €32.00 | Beanie €28.00 | Minions earphones €28.00
Guys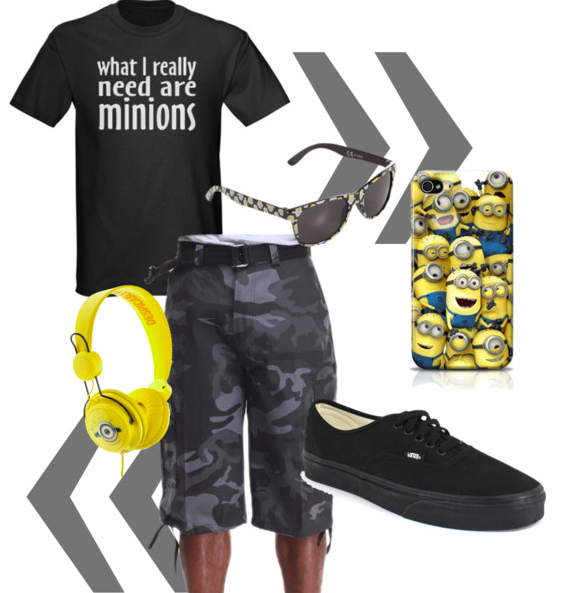 The guys aren't left out of this Minions experience! I chose a few subtle items that come together to create a really casual look. Nobody wants to wander around on a nice day in heavy jeans, so I picked a pair of combat shorts which are comfy for both adventures and squishing into tiny cinema seats.
A comfortable pair of Vans along with a themed t-shirt are both good muted colours to form the neutral base that yellow needs to pop. There'll be lots of Minions-related accessories near your head as well, as we have sunglasses featuring the iconic characters, as well as a 'subtle' pair of yellow headphones and a phone case as well.
All in all, it's a fairly obvious look if you're already a fan of the film as you'll notice the t-shirt right away but, if not, anyone passing may just think you're a fan of the colour yellow!
T-shirt €24.50 | Shoes €41.00 | Shorts €34.00 | Sunglasses €6.00 | Phone cover €0.10  | Headphones €30.00
Would you wear either of these looks out and about? What would you do differently? Have you seen the new Minions movie? Let us know what you think in the comments!