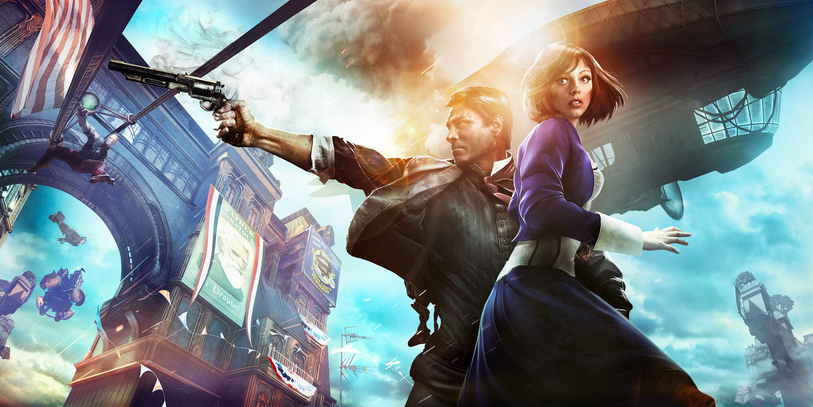 You know who gets a raw deal when it comes to making a video game? I'll tell you who! Almost everyone, at some point in time or another!
*Ahem*
However, there is one group involved in the process that don't get nearly enough recognition and those are the composers, sound engineers and audio people in general. Much like the special effects  in movies, the audio in games is usually best when it is least noticeable or, more correctly, when it blends into the game's atmosphere. Granted, there are a few well known composers, but I'm not here to blather on about Jeremy Soule, Koji Kondo or Nobuo Uematsu. I'm here to focus on some guys that really should be (gaming) household names, but for some reason aren't.
Now, before I begin, most of you will have played these games and loved the music, but if you can name the composers offhand then you deserve a pat on the back.
Darren Korb
Heard of that little game by the name of Bastion? Mmhmm, thought so. Ever notice how amazing the soundtrack is? And I don't just mean the lyrical stuff that comes up near the end, I mean how every level has its own sound that perfectly fits in with the tone. 'The Slinger's Song'  got damn near endless playtime when I first got the soundtrack for the game. As wonderful as Darren Korb's work made Bastion, though, he really outdid himself with Supergiant's next game, Transistor. The fact that the main character is a singer allowed him to really show off his work in the narrative. Just give this a listen.
Wow. Ashley Barrett has one hell of a set of pipes.
Michael McCann
Michael McCann (who also goes by the name Behaviour) is the guy behind the soundtrack to Deus Ex: Human Revolution's cyberpunk dystopia; he's also returning for the recently announced follow-up, Mankind Divided. The main theme for the game, entitled 'Icarus', is a fantastic melding of operatic vocals, orchestral instrumentals and electronic beats that perfectly matched the original trailer for the game. Fans loved it so much at the time that Square Enix was pretty much forced to release it as a download shortly after the trailer premiered. It looks like Daft Punk won't be returning for the next Tron movie, Ascension, but hot damn I'd love to see McCann take over the reins from them. Just listen to this on its own without any trailer distracting you.
Nick Arundel
Nick Arundel can proudly put his name to the Batman: Arkham series of games. Arkham Asylum, Arkham City and Arkham Knight, that is. Christopher Drake is the mind behind Arkham Origins' soundtrack. The jury is still out on Arkham Knight for the next few weeks, but the soundtracks for the two original games in the series are stellar pieces of work. They sound quite different from each other on the whole and that's part of why the games were each so well received, in that City didn't just feel like a rehash of Asylum. The greatest piece composed by Arundel however, has to be the 'Arkham City Theme'. This piece could give Danny Elfman's 'Batman Suite' a run for its money.
Also, while we're on the topic of Arkham City, 'Mercenary' by Panic! At The Disco is fantastic!
Garry Schyman (feat. Scott Bradlee & A Mighty Wind)
Okay, this one is a bit of a cheat, because a) there are three of them and b) most of you probably know Scott Bradlee for his work with Postmodern Jukebox. Something less widely known though, is that he also reworked songs in his usual style for Bioshock Infinite. And that's not even the most impressive thing! The impressive part is how well the reimaginings of popular songs fit into the world of Columbia. It took me a long while to realise what I was actually hearing when I first encountered this piece in the game, originally performed by The Beach Boys. 
Christophe Héral & Billy Martin
I only recently found out that Héral worked on Beyond Good & Evil way back when. He and Billy Martin only recently came back on my radar after taking a trip through Rayman Origins, and later Rayman Legends. The music they composed for the Rayman games is just astounding, ranging from the energetic and zany, to the quiet and melancholic. One of the things I found fascinating about the tracks played for each level is that, even though they're played on a loop, they seem to tie in seemlessly with the gameplay at the time. No matter what part of a level I found myself on, the music always matched up perfectly. It takes a lot of effort to create, not only a catchy tune, but also one that matches up with levels that may not yet have been fully designed. The music in these Rayman games doesn't just blend into the gameplay, it actively enhances it and makes the levels better.
Compulsion Games (Feat. Lauren Ellis)
Compulsion currently have one title to their name, Contrast. Contrast is a fantastic little indie puzzler that never got the attention I thought it deserved. It wasn't perfect, suffering in a few places from dodgy hitboxes, but it was still a great game; especially considering it was the first title from an independent developer. The idea was original, the game was stylish, the puzzles were challenging without being frustratingly so. Then, to top it all off, it had a brilliant original jazz score.
Jim Guthrie
I'm gonna finish up with something nice and chill – a little bit of something that sounds vaguely 8-bit-ish to tie back into the game themes of yore. Here's a bit of Jim Guthrie, who rose to fame for providing the soundtrack to Superbrothers: Sword and Sworcery  (a game he also features in as an NPC). I won't say too much about it. Just hit play and relax. Aww yeah.
Which of these game themes are your favourite? Did I forget any? Let me know in the comments!