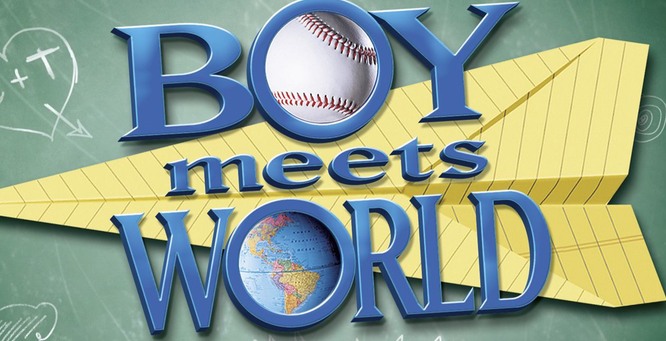 Come on. Who doesn't remember this? Boy Meets World, an American teen comedy/drama following the life of Cory Matthews (played by Ben Savage) follows Cory, his friends and family throughout seven seasons, from his middle school days as a preteen to his life in college and finally as a married man. The show originally aired from 1993 to 2000 on ABC, and eventually wound up on the Disney channel which is where I found it.
My Full Experience:
Having recently stumbled back into the entire series, my views now are much the same as they were then. I love this show. Granted, it does get off to a sarcastic, childish and even zany beginning. But come on, who judges a show on its first season alone? Season 1 kicks off with a startlingly young Cory Matthews and his BFF Shaun Hunter (Rider Strong) in John Adams High School. Despite coming from different backgrounds, the two are the very epitome of best friends. They don't care about schoolwork, despite the efforts of their principal and Cory's next door neighbour, George Feeney (William Daniels). The show kicks off by basically building and exploring Cory's relationships with the other characters in the show. Cory also begins to show an interest in Topanga (Danielle Fishel), a smart outsider in his class.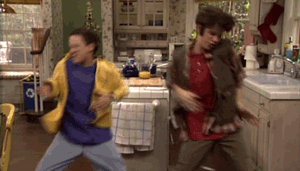 Cory and Shawn's friendship endures real tests for the first time come season 2. This is where the feels come. The differences between the two boys and their upbringings become a little more apparent as Shaun's father Chet Hunter (Blake Clark) leaves his son to stay with the Matthews family while he takes to the road to find and win back Shaun's mother after she left the two. After a brief stay, Shaun eventually winds up running away, only to be taken in (begrudgingly at first) by his new and unconventional English teacher, Mr. Turner (Anthony Tyler Quinn.)


The feels continue through the show with its very honest portrayals of the characters. Not everyone always gets what they're after first try. Throughout the show the characters are allowed to make mistakes, bad choices and even fail from time to time, always learning from these experiences and finding the right path for them. Cory's older brother Eric Matthews (Will Friedle) desperately tries to make up for years of slacking off in high school, making progress, but not enough; he's not accepted to college. He drifted for a time before eventually deciding to retake his S.A.T tests and attend college with Cory and his friends. Cory and Topenga endure their hardships with their relationship and its ups and downs too, but they do end up married so I wouldn't worry too much. More feels come fast when Shaun's father Chet dies of a heart attack. I'm pretty sure this may have been the first onscreen death I'd ever experienced. I remember being a little weirded out about it and not quite sure how to feel. A TV show had never really done this to me before. It definitely stuck with me and even now, looking back on it, it still manages to conjure something.


I may be making this all out to seem doom and gloom but really it's not. One of the biggest draws of the show, and probably what hooked me in so much in my youth, was the comedy. Throughout the whole show there's a great array of slapstick sarcasm and classic 90s humour. This was a very 90s show after all, as all the characters seems to wear the usual preppy gear with Shawn being the exception in his slick grunge/ hip-hop style. The dude was cool! It's a kind of comedy you really don't see as much of anymore. Back then, it was ok to be an idiot, a slacker or just very sarcastic. The back and forths between Shawn and Cory or the razor wit from Mr Feeney was iconic. Eric gradually became the focal point for the show's comedy in its later years too. The show also has a surprising amount of guest actors that went on to be pretty successful, including Brittany Murphy, Adam Scott, Jennifer Love Hewitt, and Melissa Joan Hart actually appeared AS Sabrina the teenage witch. Watch the following video for some serious nostalgia:

One of the cooler moments that always stuck with me watching the show was Turner's debut. Cory complains about having to read The Odyssey. Turner spots Cory's reading X-Men, and comparing it to The Odyssey, and so he also assigns X-Men to the class hoping the students will find the similarities. I've recently been told that, in the show's sequel, Girl Meets World, this scene was paid tribute with Cory's daughter meeting a new English teacher who also assigns her class a comic book, The Dark Knight Returns. With the episode having a cameo appearance by none other than Mr Turner himself 15 years on, it was a nostalgia tribute at its finest.
Do you remember Boy Meets World? Let us know what you thought of it in the comments!