Otaku Digest: Ghosts/Vampires/Androids
Another week down already? Where is the time going? Well, that just means it's time for another installment of Otaku Digest! Is this not one of the best anime seasons we have seen in a while? There have been some major hits to the point where I've already seen a sprinkle of cosplays across the Webisphere. Thankfully, there is still a month's worth of new anime to get through before we play an epic game of catch-up on the many anime series we've liked here on Otaku Digest. Coming up this week are Kyoukai no Rinne, Owari no Seraph and Plastic Memories.
Kyoukai no Rinne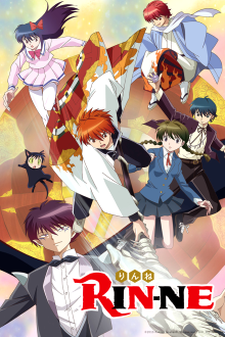 First up this week on Otaku Digest is the comedy, romance, supernatural and school anime Kyoukai no Rinne or RIN-NE which originally began airing on the 4th of April and is set to air for 25 episodes. There is nothing worse that when a child goes missing, so you can imagine the panic when Sakura Mamiya disappeared into the woods that were behind her grandmother's house when she was a child. Although she came back seemingly healthy and safe, she has never quite been the same; now, she has the power to see ghosts. Fast forward to her as a teenager; she wishes for nothing more that peace and for the ghosts to just leave her be. In school, the desk next to Sakura has been vacant since the beginning of school until, one day, the absent Rinne Rokudo shows up and he turns out to be much more that what he appears.
It has such an upbeat opening. I know it seems a little generic to say, but it was general catchy in the tune and I can see it being something I would listen to without the anime. This anime is odd, to say the least, but very entertaining. There are many girl-sees-ghost type animes out there and ones with supernatural themes, but this one was genuinely giggle-worthy with its odd story and animation. The random scene with ghost dog treats and a giant Chihuahua eating a young man was random, and yet I found it hilarious. Nothing is truly explained in terms of where and what exactly happened to Sakura as a child or how she now has these powers but, to be honest, it didn't bother me. It made me really sit and watch the episode to try and understand what on earth was going on.

Will I Continue To Watch: Yes, it was genuinely interesting and captivating enough to keep watching.
Owari no Seraph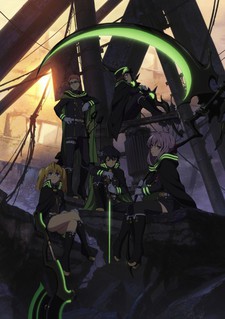 Next up to the plate is Owari no Seraph or Seraph of the End: Vampire Reign, a supernatural shounen and drama anime which was adapted from the manga of the same name and began airing on the 4th of April. This anime is set in a world where a mysterious virus has ripped its way across the world, wiping out the entire human race, bar a select few; those few who survive happen to be children. Following the devastating virus, vampires begin to emerge and sweep over the earth to claim it for themselves. Once discovered alive, these children are taken and enslaved by the vampires. We see Yūichirō Hyakuya and his comrades plan to become stronger, strong enough to kill all the vampires. The mission is to kill and the reward is freedom.
The opening sequence — my word, talk about catching a viewer by surprise — all seems normal in a bustling city until absolute chaos ensues. It was terrifying and yet amazingly done. If nothing else, this anime is beautifully crafted; it is a real feast for the eyes. The traditional use of animation for the backgrounds with darker shades in the city to show the ruins of human civilisation is used flawlessly, and it complements the character designs to perfection. The story was actually fantastic, following a group of orphans as they manoeuver this new world they have been thrown into. It truly shows the resilience of children, that even when all the world is in chaos they will somehow survive. The entire concept of this anime is genius; there is drama and action while there are also characters to genuinely connect with and care for as the try to survive. It is a powerful opening episode, to say the least, and you really don't expect it to be as good as it is.

Will I Continue To Watch: Yes, I couldn't keep my eyes off it until the very end.

Plastic Memories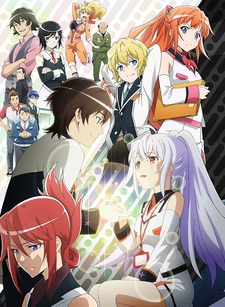 Lastly for this week we have a comedy, drama, slice of life and sci-fi anime that began airing on the 5th of April called Plastic Memories. Set in the not-so-distant future, androids who are identical to humans begin to spread across the world. Thanks to SA Corp, the world now has Giftia. Giftia is a brand new type of android that has the most life-like emotions and other human qualities compared to other models out there or that's ever been seen. Unfortunately ,this type of android perfection comes with a glitch; due to some problems in the technology, these androids come with a service life and once they pass their 'expiry date', it's not good for anyone. SA Corp create a terminal service that rounds up Giftia who have passed their service life. A new member of this team, Tsukasa Mizugaki, decides to team up with the Giftia so they can retrieve the other androids, but does he really know what he is getting himself into?
I'm not going to lie; when I saw the slice of life genre tag for this anime, I both groaned and wondered how they were going to merge sci-fi with real life situations. This is a weird anime for me; I cannot really decide whether it was good or boring or even if I enjoyed it or not. I watched the entire thing and the only thing I can say is that it was an anime about terminating androids or, more specifically, it was about the people behind this; the terminators. I see what you did there anime, there is the slice of life I was worried about. Saying that, the anime has its good points; like the points of genuine emotion where you realise these androids are not just objects people own, but have become parts of their families. So when they are 'retrieved' it means so much more than just a possession being taken away.

Will I Continue To Watch: Yes, even though it dragged a bit, there were some moments in there that made me think this series would be worth continuing. 

Another three full recommendations here on Otaku Digest! This must be a record! Have you been watching any of these series? Let me know what you think?