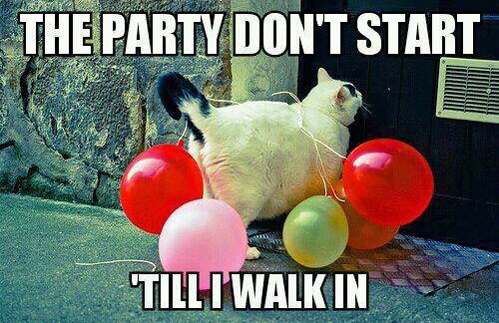 Yeah, this is going to be a weekend we'll never forget. This country will never forget it! I want the feeling to continue for a little while longer and so the playlist for this week is all about celebrating, about keeping this energy going!
We Are Family – Sister Sledge

I drove to the polling booth with my mom late in the evening and this song played the whole short journey to the polling station. I don't think I've ever been as nervous in my short time voting than I was that day. I'm lucky I had someone with me as I slipped the sheets into the sturdy metal box. I spent the night at home and woke the next morning surrounded by family as the early counts began, and the indication was Ireland had voted for equality.
Make Your Own Kind Of Music – Mama Cass

This song works for me on two levels; for those who voted no, you're very much entitled to that opinion and you can keep it, but it also works for the people this referendum has affected the most, Ireland's LGBTQ community. It's only been twenty two years since homosexuality was decriminalised in this country and so much has happened in that time. To those who marched, canvassed and spoke out in the past, this is for you!
Happy – Pharrell

I never really liked this song, but it's fitting for this playlist and it has certainly grown on me ever since radio stations have stopped blaring it on a loop!
Don't Stop Believing – Journey

If this playlist didn't contain Journey, I'm pretty sure that there'd be war!
Sweet Dreams – Eurythmics

This one is dedicated to one person in particular, who was at the other side of the country when the news broke. This is the song that we would have no doubt been dancing to that night, pushing through the crowds to make it to the dance-floor no matter where we were when the song came on!
Ain't No Mountain High Enough – Marvin Gaye

There really isn't! This is a long time coming for Ireland and I'd like to thank the advocates and volunteers who worked tirelessly over the last few weeks and months – this one is for you!
Love Injected – Aminata

I'm just going to put this out here now: Latvia were robbed in this year's Eurovision – ROBBED! Despite that, I'm not going to forget this weekend because of the momentous declaration of love by the people of this country.
What songs were you rocking out to after the referendum passed? Let us know in the comments!
Editor-in-Chief, part-time super villain and hoarder of cats. If you can't find me writing, I'm probably in the kitchen!