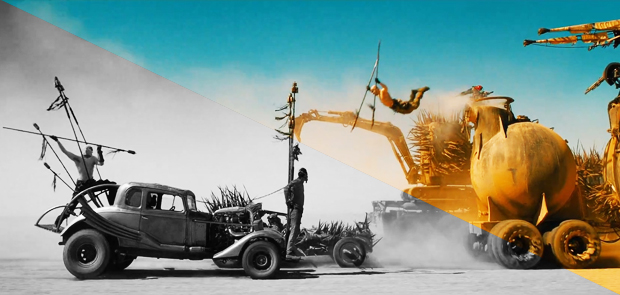 In an interview with /Film, Mad Max Fury Road director George Miller has confirmed that the blu-ray version of his film, (his amazing film, check out Anthony's review here!) will feature a very different look for the movie.
Fans and critics alike will tell you that the visuals were eye-popping; it was a visual feast for the eyeballs but Miller has said that the black and white cut of the film is his favourite:
"We spent a lot of time in DI (digital intermediate), and we had a very fine colorist, Eric Whipp. One thing I've noticed is that the default position for everyone is to de-saturate post-apocalyptic movies. There's only two ways to go, make them black and white — the best version of this movie is black and white, but people reserve that for art movies now. The other version is to really go all-out on the color. The usual teal and orange thing? That's all the colors we had to work with. The desert's orange and the sky is teal, and we either could de-saturate it, or crank it up, to differentiate the movie. Plus, it can get really tiring watching this dull, de-saturated color, unless you go all the way out and make it black and white."
Miller is requesting that this be a feature on the blu-ray along with an 'isolated  score' for the soundtrack.
It certainly sounds amazing and very different to what we saw in the cinema – will you be picking up a copy?
Let us know in the comments below!
Editor-in-Chief, part-time super villain and hoarder of cats. If you can't find me writing, I'm probably in the kitchen!