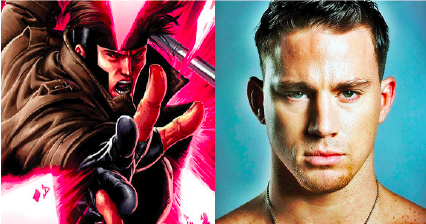 Gambit Movie Starring Channing Tatum Confirmed As Origin Story

Don't you just love to hear of a new recruit in the Marvel ranks? Foxcatcher and 22 Jump Street star Channing Tatum is set to play Gambit in the upcoming movie of the same name.
In an Empire magazine interview, Tatum confirmed that the film will be an origin story for Gambit, otherwise known as Remy LeBeau, who can mentally create, control and manipulate pure kinetic energy and has a penchant for throwing cards at people. "Josh Zetumer just turned in the first draft of the script, and it's killer," he said.
"There's so many ways you can take [an origin story]. You could do it like Batman Begins, or a different take and go the Guardians of the Galaxy route. All I can say is, I'm super excited."
Tatum is a big fan of the character, and in the interview he discussed his own Southern upbringing. "I love Gambit," he said. "I grew up in the South; my father's from Louisiana. We'd go to New Orleans and I heard all the dialects. It felt so different from the rest of America; it has its own ancient culture. So I identified with that. And he always felt the most real of the X-Men to me. He's kind of a tortured soul and he's not a good guy. But he's not a bad guy, either. He walks his own path. And of course he plays cards and drinks and is a martial-arts badass!"
After leaving a thieves guild, Gambit eventually joins the X-Men, so we should hopefully see a lot of him in upcoming crossovers after the origin movie. We all remember the spectacular "My name is Jeff…" trope from 22 Jump Street, but hopefully Tatum will try a more realistic portrayal of Gambit's Cajun drawl for the 2016 movie.
Gambit was initially played by Taylor Kitsch in the 2009 X-Men Origins: Wolverine film, although the film was unfavourably received by critics with a Rotten Tomatoes score of 38%.
Gambit is set for release on the 7th of October in 2016.
Are you excited for the movie? Let us know in the comments!