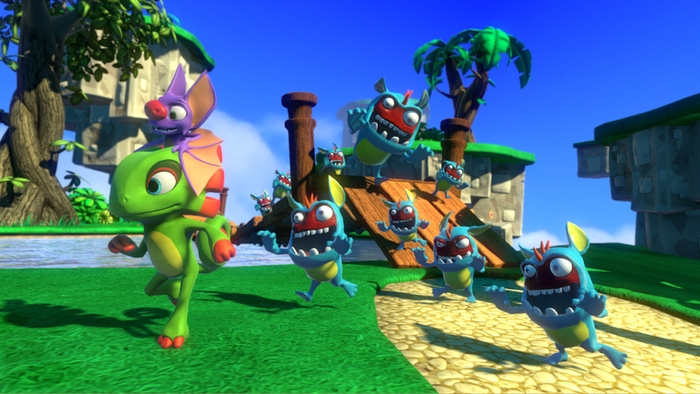 We reported yesterday that Playtonic games were making a successor to Banjo-Kazooie called Yooka-Laylee. Today, that game hit Kickstarter, and as of right now, is at just over £300,000, leaving the original goal of £175,000 in the dust.

There's very clearly no slowly down the new platformer, which may be an indicator that the appetite for mascot-driven adventure games with an emphasis on platform hopping is very much still there. The pitch video contains some of the team's hopes and aspirations for the title, and all read very well for bringing back those nostalgia tinted memories of games past.

The video transcribed: "Yooka-Laylee is an all-new 3D platformer from the creative talent behind the Banjo-Kazooie and Donkey Kong Country games. We've come together to form Playtonic Games and create a spiritual successor to our most cherished work from the past!
Our new heroes, Yooka (the green bloke with no pants) and Laylee (the wisecracking lady-bat with the big nose) were conceptualised from the ground up for stellar platforming gameplay, created by the same character artist behind the rebooted Donkey Kong family and legendary N64 heroes Banjo and Kazooie.
Using an arsenal of special moves like Yooka's tongue grapple and Laylee's tactical sonar blast, players will explore – and expand – gorgeous 3D worlds drawn up by esteemed environment artist Steven Hurst (Banjo-Kazooie series, Viva Pinata) and through skill discover the plethora of delicious collectibles hidden within."
So, who's ready for some life-by-life, level-by-level platforming share-play? Dibs first go!