Music Monday: Really, Queen?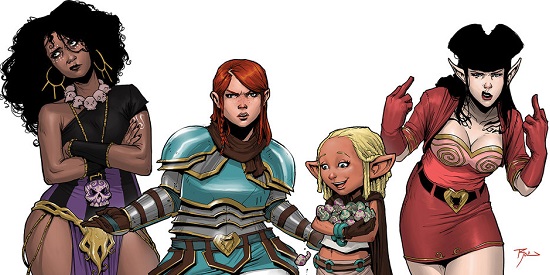 No, no, this isn't going to be a playlist of RuPaul oriented music, I'm sorry. The infamous Bianca Del Rio may have given us the phrase, but the Queens I'm referring to are none other than the butt-kicking Rat Queens! If you're a comics fan and you're not reading this series, you need to sort your life out. The series, by Kurtis Wiebe and illustrated by Stjepan Seijc (formerly Roc Upchurch) is currently on issue #9 and capturing reader's hearts. If you love girls who aren't afraid to get into a little trouble (a little trouble may mean fighting some eldritch horrors and getting extremely drunk) then this is the series for you!
Joan Jett -Bad Reputation

Hannah's theme, essentially. When I think of Hannah I think of all those punky, gothy teen girls who just wanted to be their own person. Fiercely independent, Hannah has sass overflowing from every part of her! She absolutely carries a bad reputation but it's never gotten in her way.
Sleigh Bells – Demons

This song I associate very heavily with Dee. Leader of a cult, now turned non-believer, Dee is such a great character. Introverted but extremely caring, she's an extremely powerful being. Her magic usage and old cult practices are something I hope we get to see more and more of!
Katy Perry – Roar!

Violet. Where do I start with Violet? Firstly, she's a dwarf. Yes, she has a beard. She shaves it. Throwing tradition out the window, the red-head decided the practices at home weren't really to her liking. She wanted to fight, to be a warrior instead of only modelling armour. That's why this song is so great for her! We see Violet stand up for herself and do what she wanted to do with her life.
4. Bubblegum Bitch – Marina and the Diamonds

Meet Betty. She's what's known as a Smidgen in the RQ universe. A tiny, goblin-sized gal with sassy attitude and a great love for candy and psychedelic mushrooms, Betty is definitely the cutest and most lovable member of the group. She's often used for comic relief more than the others.
Now that you've got a feel for each of the Queens individually, the last 3 songs are going to be giving you a feel for their group as a whole. Every girl gang needs a soundtrack for kicking monster butt and getting wasted, right?
Emilie Autumn – Fight Like A Girl

"Godsdamn right we're the fucking Rat Queens!" This song embodies the Queens so perfectly. Not once have the enlisted the help of a male to help them fight their battles. These girls are well able to handle themselves and the whole town knows it.
Ke$ha – Out Alive

Another great anthem for our Queens. These girls have seen their fair share of bloodshed and death, but rarely on their own side! When these gals fight, they really fight! This leads me onto my last song for this ass-kicking playlist…
Imagine Dragons – Warriors

As I said, if you haven't read this series yet, do yourself a favour and pick up the first volume; Sass and Sorcery at your local comic shop or online! Have a good week, guys!