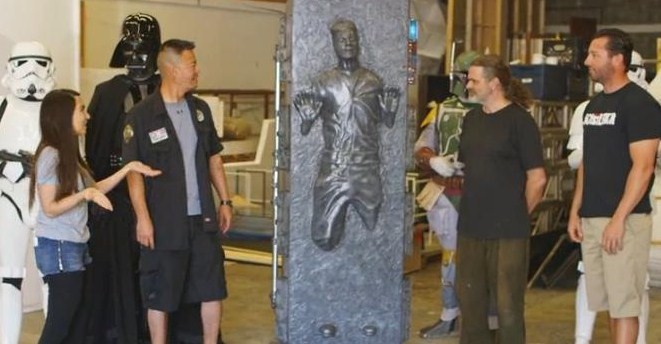 A long, long time ago, in a galaxy far, far away, one Youtuber continues to make us incredibly jealous of their crafting skills…
We at The Arcade have long supported and enjoyed the Awe Me YouTube channel.  Suffice to say, they've done it again.
Here we see the folks at Super Fan Builds make a table, but as you'd expect Tim Baker and friends created no ordinary coffee table, they created a Star Wars Han Solo Carbonite Coffin coffee table.  Timely, no?  The artisans include: Tim Baker (Designer/Master Builder); Shawny Martin (Sculptor/Jeweler); Jessie Pridemore (Seamstress) & Rosalinda Macias (Painter).

Some readers will doubtless want to see the original players back in action. I too miss Tony Swatton and all the folks at the Sword and Stone. Still, with content like this it seems churlish to complain. We sure wouldn't mind having this as the center-piece in our living room!