Music Monday – 02/02/2015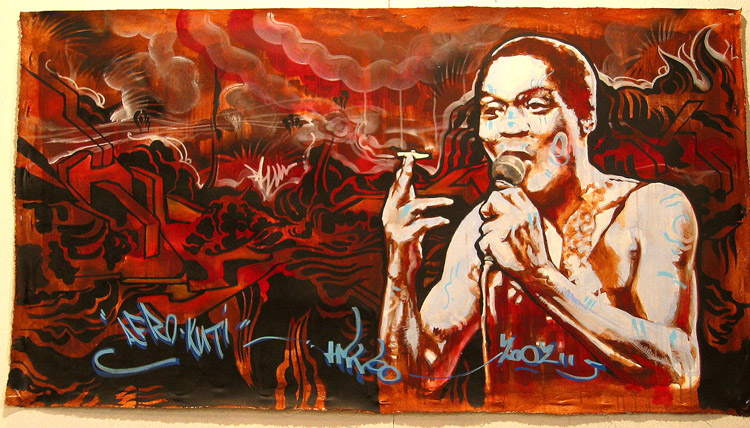 No theme for this week's Music Monday. Just seven stellar tunes I've buzzing in my ears. Enjoy!
Fela Kuti – Trouble Sleep Yanga Wake Am
One of the great advantages to living in London (or any metropolis worth a damn) is the sheer variety of what one encounters.  Music is no exception. Upon frequenting an old haunt not far from where I grew up, I encountered a song that has been shadowing me ever since. Fela Kuti, was a pioneering musician. Kuti's music is perhaps best described a type of fusion. A combination of traditional African (Nigerian & Ghanaian) music and jazz, along with elements of funk and choral, call-and-response vocals. However, one should not misunderstand the music as a inert, disinterested exercise in bringing together hitherto desperate sounds. Kuti's music was a vehicle for social-political criticism and therefore change, both in his native Nigeria and across Africa. Although Fela's life was cut tragically short, the music's vigor persists.

Billie Holiday – I'm A Fool To Want You
Oh Billie. The mournful tone and aching honesty. Commentary is surplus to requirement. For anyone who has experienced the injustices of love, this song is bound to resonate.

City Escape – Jun Senoue (performed by Ted Poley and Tony Harnell)
On a much lighter note, here we have a tune that probably I am sure will reunite a number of readers with their younger selves. Sonic Adventure 2 was released back in 2001, if you can believe that! For that it might be worthy of a Forgotten Childhood piece. At the entry level of the game the song was originally a hook to draw you (me) in, but now it seems to capture the sense of fun and absence of care which define that time of life.

Django Reinhardt – I'll See You In My Dreams
Django Reinhardt is that guitarist that inspired Black Sabbath's Tony Iommi. Surprised? Understandable. Prior to "making it" as a musician, Iommi work in a sheet metal factory, where he lost the tips of his fingers in an "industrial accident". Needless to say he was devastated by the loss. Shortly thereafter, he came across a record by Django Reinhardt, who famously played guitar with eight fingers. Suffice to say Iommi resolved to pursue his ambition and ultimately triumphed. Here Django frolics up and down the frets, which never fails to cheer me up.

Make The Girl Dance – Kill Me
Make The Girl Dance are a French music duo specializing in Electro house. It has been said that confidence is the ability to dance like no one is watching. This seems the song to do it.

Red Hot Chili Peppers – Throw Away Your Television
For a song that was released back in 2002 Throw Away Your Television seems strangely prescient. That might sound counter intuitive. After all people have been slandering TV more or less since John Logie Baird invented it. Moreover, with shows like Breaking Bad and Game of Thrones television seems to be undergoing a revival that would make chucking it out an altogether bad idea. However, the mistrust of mainstream media, added to the fact that so many are now generating and consuming content online, would evidence that traditional broadcasting is indeed "getting old".

Booker T & the M.G.s – Green Onions
Need I say more?