Otaku Digest: Assassins, Souls and Magical Boys
Welcome and come on in to another instalment of Otaku Digest, this is where I take the current anime season and watch all the first episodes of new titles to see if they hold up or if it is worth sticking around to watch the rest of the series. Kicking off the winter season is Ansatsu Kyoushitsu, Absolute Duo and Binan Koukou Chikyuu Bouei-bu Love!
Ansatsu Kyoushitsu
First up on this chilly winter season is the action comedy school anime Ansatsu Kyoushitsu or as it quite widely known as Assassination Classroom.
This is set to be a long enough series at 22 episodes and it first aired on the 10th of January. The series was adapted from the manga of the same name and is based solely around the class 3-E and its bunch of misfit students who have but one mission, they must kill their teacher before graduation. A teacher who is a tentacled being that has already destroyed the moon and has threatened to destroy the earth if they cannot kill him within the year – graduation is their deadline. Can class 3-E kill this creature when he can reach up to mach 20 speed but who is also the best teacher they have all ever had?
This is one of the weirdest anime I have ever had the pleasure to watch and that is saying something considering the anime that have been released in recent years. I knew before watching it was a comedy based anime but the whole premise to it describes a horror or thriller. It was for the most part quite funny, the teacher creature was my favourite part to the whole thing. He mocks the government trying to kill him by polishing the fighter jets sent after him. So who do the government put in charge of killing the creature that blew up 70% of the moon, a young group of misfit assassins. I really enjoyed this episode and think this will turn out to be a great anime, it is chocked full of great characters the teacher included, the animation is fun and the music is very upbeat and compliments the story to perfection.
The main reason I would continue to watch the rest of this series is based solely on the relationship between the students hired to assassinate the creature and the tentacle teacher himself. Although he know what their mission is and his own agenda he shows care for his students and they agree although he is dangerous that he is the best teacher that "End Class" have ever had, why? He believes that they can be better.
Will I Continue to Watch: Yes! I thoroughly enjoyed the episode and can only imagine that the rest of the series will live up to it.

Absolute Duo
Next on the chopping block was Absolute Duo an action, ecchi, romance school anime that started airing on the 4th of January.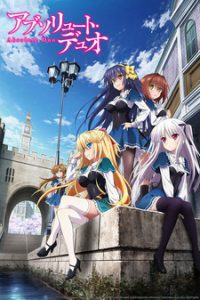 This anime is centred on the weaponised item known as Blaze, this is the weapon that is the manifestation and weaponisation of a human soul. Our protagonist Tooru Kokonoe is one that is competent enough to wield a Blaze but instead of having a weapon Blaze his is a shield. For this he enrols in the special institution that teached combat training and skills, due to the schools Duo partnership system he winds up being partnered up with a beautiful silver haired girl – did we mention that duo's also live together?
First off that opening theme is one of the best I have seen in a while, it perfectly showcased the action based series and all its characters while having a kick ass theme song with fantastic female vocals over the harsh electric guitar. It packed action and excitement into basically a minute. I have to say that honestly this episode and concept did not grip my interest the way series have in the past. Opening with this Battle Royale, kill each other to gain entrance to this prestige school of Blaze combat training. I can see what they were trying to do in giving a slight view to how the "Blaze" concept works but I personally found it boring, a dull way to illustrate your point. To me this series stood out as another school, romance and action type anime. With an opening theme like that I am disappointed to say it was more entertaining than the episode itself. There were a few characters that could turn out to be interesting further on in the story, especially the Julie character. Lastly, why so much fan service needed? It was really unnecessary, here's looking at you professor Bun Bun. I expect to see a lot of cosplays from this anime in the near future.
Will I Continue to Watch: Unlikely, I found it cliché and boring with too much unnecessary fan service.
https://www.youtube.com/watch?v=NzTRaZYEVW0
B

inan Koukou Chikyuu Bouei-bu Love!
Last up this week was the comedy magical boy anime Binan Koukou Chikyuu Bouei-bu Love! Or other words known by Cute High Earth Defence Club LOVE!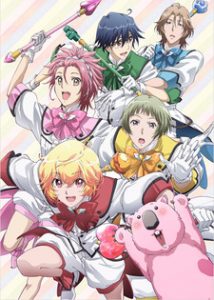 That first started airing on the 7th of January. There has been a big following for this anime since it was first given the go ahead in September 2014. This animes main focus is on the five male students of the Boeibu /Defence Club or the club to do nothing at Binan High School. A tale of how normal lazy boys become the "Battle Lovers" and mist defend the earth against the Earth Conquering/ Conquest Club.
No word of a lie I was super excited for this anime, I am an out and out magical girl fanatic so when this magical boy anime got the go ahead I could not wait to see it and cover it for Otaku Digest. First off all I can say is I need more, this was like watch a male version of Sailor Moon just instead of there being planet power it is the power of love. Each boy is individual in their presentation and personalities which makes them all interesting in their own way. The series is unbelievably corny but in such a good way, it is everything from the magical girl series but with boys and the best part is that it is made slightly awkward because the boys just have no idea what they are doing. Too much cute for them to handle as they try to save their "beloved Earth" through the power of love. This will definitely not be everyone's cup of tea when it comes to anime but all magical girl fans will appreciate its corny representation of the genre and lastly that cuddly companion they have, the pink wombat is pure perfection!
Will I Continue to Watch: Yes, a million times yes! This anime is perfect for just a bit of fun watching and I need to see more pink wombat and green hedgehog!

What did you think of this week's Anime? Were you watching something else? Let me know in the comments!