Jessica Nigri Cast As Lead In Super Sonico Series
Thursday the 22nd of January saw Sentai Filmworks announce the English voice cast for its SoniAni: Super Sonico the Animation, the most interesting being the casting of professional cosplayer Jessica Nigri as lead Sonico. Nigri has previously voiced Cinder Fall in RWBY.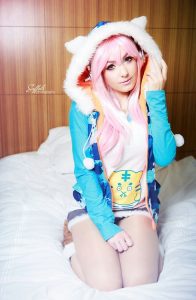 Nigri is no stranger to Super Sonico having cosplayed her several times and she commented on her recent casting.
"I always felt a connection with Sonico. She's just got such a positive and genuine spirit about her that when they asked me about playing the part, I squealed with joy! It's like my dream was finally coming true. Being here with my Sentai family has been surreal."
SoniAni: Super Sonico will follow Sonico, a busy 18 year old college students who part times as a model and musician while also working in her grandmothers bar.
Super Sonico has become an infamous character who has inspired her own series of games, not to mention countless figures and even a giant ½ scale statue.
The series is due to be released on Blu-Ray and DVD on the 26th of May by Sentai Filmworks.