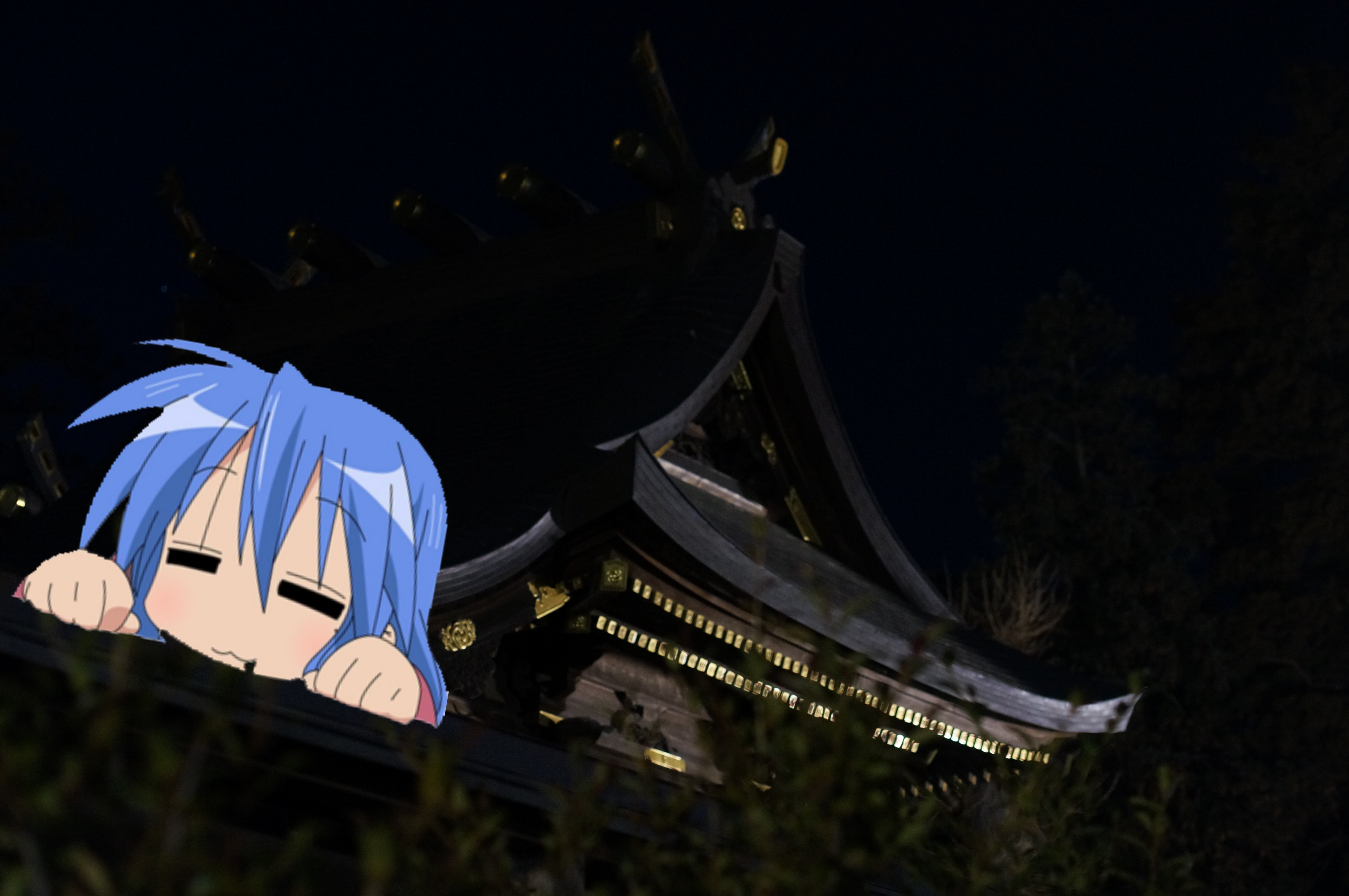 Anime Pilgrimage: Lucky Star At Washinomiya Shrine
It goes without saying that Japan's animation industry is something of a behemoth. At home and internationally, Japanese shows are hugely popular for reasons that are equal parts baffling and blatantly obvious and some shows inspire the kind of feverish fan loyalty that most football clubs could only ever dream of.
What you might be less aware of, is that Japanese animators frequently use real places as inspiration for their show's settings and many of these have become famous as pilgrimage sites for fans. This week I visited one such site and got to see first hand just how deeply anime has permeated Japanese culture.
Kyoto Animation's Lucky Star is one of the most popular shows of the last decade and despite having finished in 2007, it's popularity persists even now. So much so that, wherever you're from, statistically, you've probably heard of it, and have possibly watched at least one episode or even performed this infamous dance routine at a convention somewhere.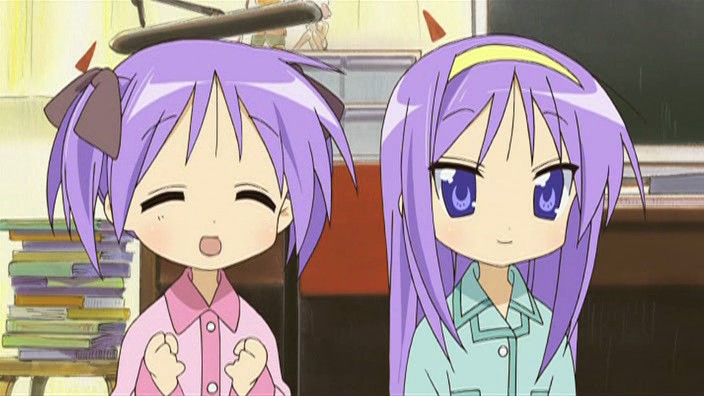 One location featured in the show is the small rural town of Washinomiya and it's shinto shrine. After Lucky Star aired, this quiet country village was practically invaded by fans, all flocking to pay their respects to Konata, Kagami and the rest of Lucky Star's adorable ensemble. Initially, the residents were a little resistant to the new visitors, but the town has since embraced it whole-heartedly, even going so far as to grant the Hiiragi sisters official residence there.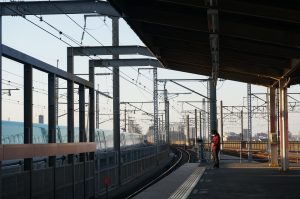 Getting to Washinomiya is a little difficult, but not quite as difficult as some other anime pilgrimage sites. If you're going to attempt it you need to get the Utsunomiya Line from Shinjuku Station to Kuki, and the Tobu line from Kuki to Washinomiya. All in all it takes about an hour from Shinjuku, but you will want to try time it carefully as the second train isn't as regular as the first and you might have to wait a while.
Having arrived at Washinomiya Station, myself and my travel companion (who also took half of these photos) were immediately struck by just how remote it was. There was very little there and no signage whatsoever, but following our nose soon lead us to a bridge that my companion recognized from the show and within minutes we'd found the shrine itself.
It's worth pointing out that we visited the shrine during Hatsumode, Japan's week long new year celebration during which families visit their local (or favorite) shrine to pay their respects and pray for a prosperous year. As a result, even this small shrine was full of people and lined with market stalls. Any other time of year it may well be a lot more quiet than it was for us.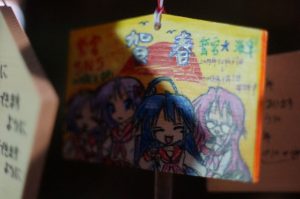 The Japanese have a lot of New Year traditions, one of which is the hanging of Ema, small wooden slates on which people write their wishes for the coming months. At Washinomiya Shrine, you'd be forgiven for thinking that this one-horse town was home to hoards of professional animators as the ema showcased some genuinely incredible art skills, most of which in the form of characters from Lucky Star. Konata, the main character, appeared a lot and all throughout the market stalls the price signs and chopsticks were also branded. It was surprising to see, in spite of the poignancy of the event, that Washinomiya genuinely had embraced it's role in Japan's anime arcana.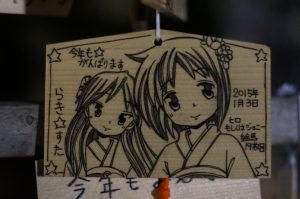 As we were walking around, we were approached by a man who, after some stilted Japanese/English conversation (we were about as good as each other in each other's languages but we made it work) insisted on introducing us to his family, helping us collect our omikuji (fortunes) and buying us food and beer for the rest of the evening until he, his wife and granddaughter insisted on accompanying us to the train station in weather that can only be described as comically cold. His first question to us was had we heard of Lucky Star and upon hearing that we had, he took it upon himself to go somewhere and get Lucky Star souvenirs for us. For the record I still don't know where he went and the souvenirs in question definitely were not on sale at the shrine, so this old man probably went running home in the cold to give a couple of otaku weebs some, admittedly adorable, phone charms. It was the kind of baffling and brilliant hospitality that you read about in books or travelogues, except with added anime merchandise, and not something I could ever have expected.
We were a little worried on our way to Washinomiya that the shrine visit would be a let down, and I suppose any other time of year it might have been, but if you're a Lucky Star fan in Japan, you can rest assured that this town knows why you're there and is totally on board with it. Go visit the Hiiragi sisters' official hometown and take in the beauty of the shrine and the river and the fresh country air. You probably won't regret it.

[Images courtesy of http://flickr.com/grozzle]