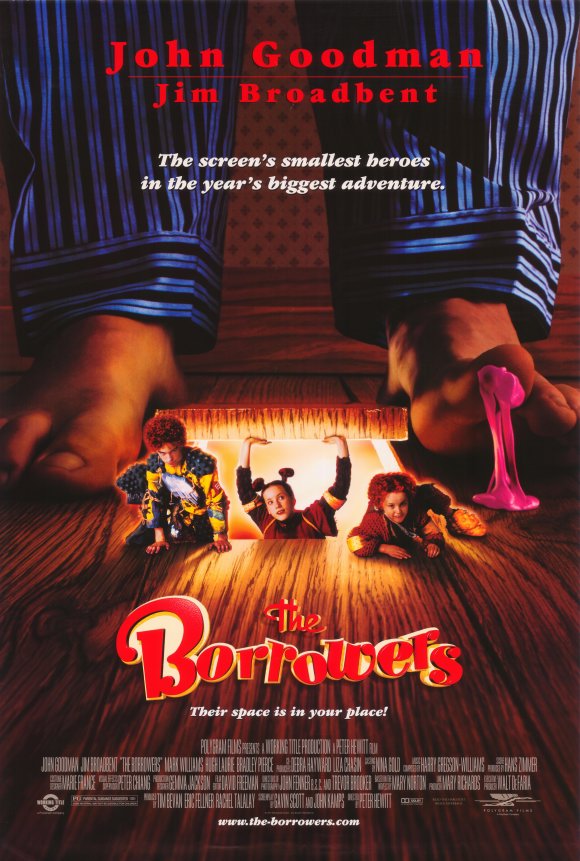 THE INITIAL RELEASE (1997)
Mary Norton's children's book has been through any number of permutations (the 2011 BBC TV movie being the most recent). This version was well received at the time and nominated for Best British Film at the BAFTAs. Although the BAFTA was awarded to Nil by Mouth (Gary Oldman's writer-director debut), the film was not devoid of critical appraisal. On the contrary, it maintains a 73% positive on Rotten Tomatoes. Furthermore, the esteemed Roger Ebert rated the film a 3/4, noting that the film's charm: "comes in the way "The Borrowers" makes its world look like a timeless story book." The film was also a commercial hit too, taking $16,600,000 in its opening weekend, more than half of its estimated budget of $29,000,000 (the equivalent of about $42,772,861 today).
Money, however, does not make the movie – money got the movie made, but that's not quite that same thing. According to IMDb, "Every vehicle shown in the film is a Morris 1000 Minor. Even a custom-built 'stretched' limo." The use of a quint-essential economy car might seems trivial, but in conjunction with the special effects (embryonic at the time) it captures what made the film an enduring success. The ability (of the characters and filmmakers alike) to take the most basic materials and by ingenuity create something spectacular.
MY FULL EXPERIENCE (1997 – 2014)
I first encountered The Borrowers at what is now a rarest phenomenon: a local video shop. Ours is that last generation that must remember having at least one (in my case two!) places where you could present a membership card and hire a film from a selection. These places were treasure troves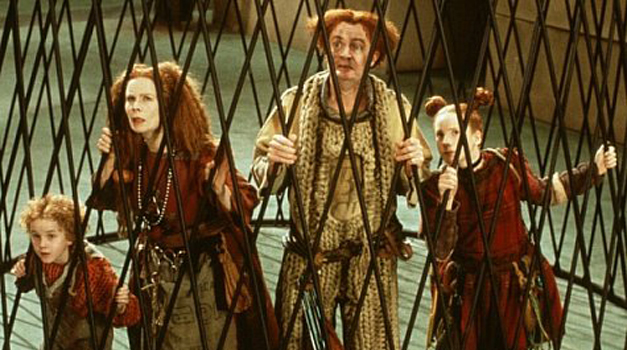 where you could find any number of delights for that evening, and ear-mark other titles for evenings to come. These places survived the emergence of BlockBuster, but grow more infrequent every year.
Needless to say, The Borrowers was a family favorite, a film that my mother, sister and I could all agree on, and was enjoyed as a regular rental. I was given the DVD this summer and ere long we were gathered round, re-enacting our past, re-watching the scenes of years gone by. Just before the credits rolled I all but jumped put of my seat, realizing that Peagreen was played by a (very) young Tom Felton – who has gone on to feature along with Jim Broadbent and Mark Williams in the Harry Potter films.
The film begins with the Lender family, who have to move out of their home owing the machinations of the Ocious P. Potter (John Goodman). However, what neither Potter or the Lenders know is that beneath the floorboards is another family, the Clocks. Pete, the child of the Lender family, is convinced that his family's things are being taken from around the house, and so sets traps with a view to catching the would-be thieves, a mis noma Arrietty (Flora Newbigin) is quick to co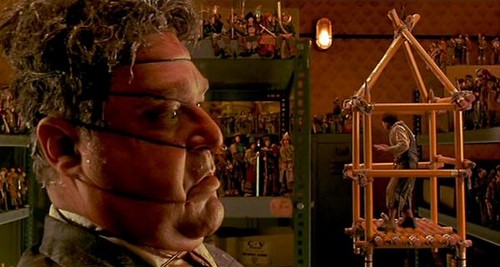 rrect. By degrees the Clocks and Pete team up to defeat the dastardly Potter (a counter-intuitive alliance when you consider the career trajectories of both Felton and Broadbent). Along the way they meet unlikely/ unknowing allies in the form of Exterminator Jeff (Mark Williams), Police Officer Steady (Hugh Laurie) and a slighted Town Hall Clerk played by Ruby Wax.
The film's special effects are early stage but hold up well. The scene where Pod (Jim Broadbent) and the children are climbing in the kitchen looking for supplies is still convincing. Indeed when the children get trapped in the fridge, the sight of Pod speeding across the kitchen counter remains gripping. Not only that, the sequence were Pete meets Arrietty, while no longer an impressive stretch of film making, is as compelling now as it ever was. On the other hand, the film is strangely well served by its times. If the film were made now it is conceivable it would be more reliant on the CGI and digital photography. The problem with those kinds of technologies in a film like this is that they are slightly too clean. For example, the Clock's homestead beneath the floorboards is a set, as is the top of Pete's wardrobe. These places have a quality that is immersive precisely because they are tactile, convincing because they are somewhat grungy, qualities difficult to replicate digitally (for now at least).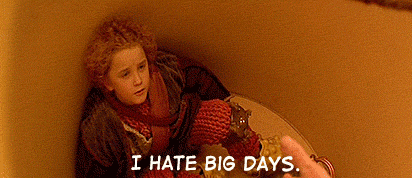 Still, the film at its heart is a comedy in the broadest sense: baddie is a lawyer, slap-stick aplenty. As a spectacle it continues to make me laugh and, while I am obviously biased, I am sure the film will continue to make kids laugh even when the label no longer applies to me. The slap-stick has a homegrown quality reminiscent of Home Alone (1990). That said, Macaulay Culkin's would-be captures never quite seem his equal and therefore don't seem dangerous. Potter is a real threat and so his comeuppances are more satisfying, more necessary. The havoc in the movie is set against motivations that give the film a wonderful sense of justice and mischief at the same time. They want their home(s), and by wit and tenacity the mighty fall and the little people (spot the homonym) endure.
Unless going to the cinema, watching a film is often a spontaneous event for me. Even so, I can only conclude that at some point in the new year my mother, sister and I will have to sit down and re-watch the film that is inexorably ours.