The Arcade @ D.I.C.E 2014
This last weekend of September, I happened to have the supreme pleasure of attending Ireland's only comic exclusive show, D.I.C.E (Dublin International Comic Expo). Now in its third year, D.I.C.E is run by John Hendrick and co. of comic store The Big Bang in Dundrum, where the store is based. In fact, the venue is literally feet away from the shop – though it'd be hard to miss it regardless of that! Formerly DCCC, Dublin City Comic Con, D.I.C.E is very much a different kind of event compared to many of its brethren in the convention scene here in Ireland. Boasting a wide variety of guests from editors to publicists to artists to inkers to any other profession you'd care to mention within the comic industry, a much more relaxed forum and one of every kind of panel you could possibly want to see at a comic convention, this is the comic fan's comic convention, and a true success to the term.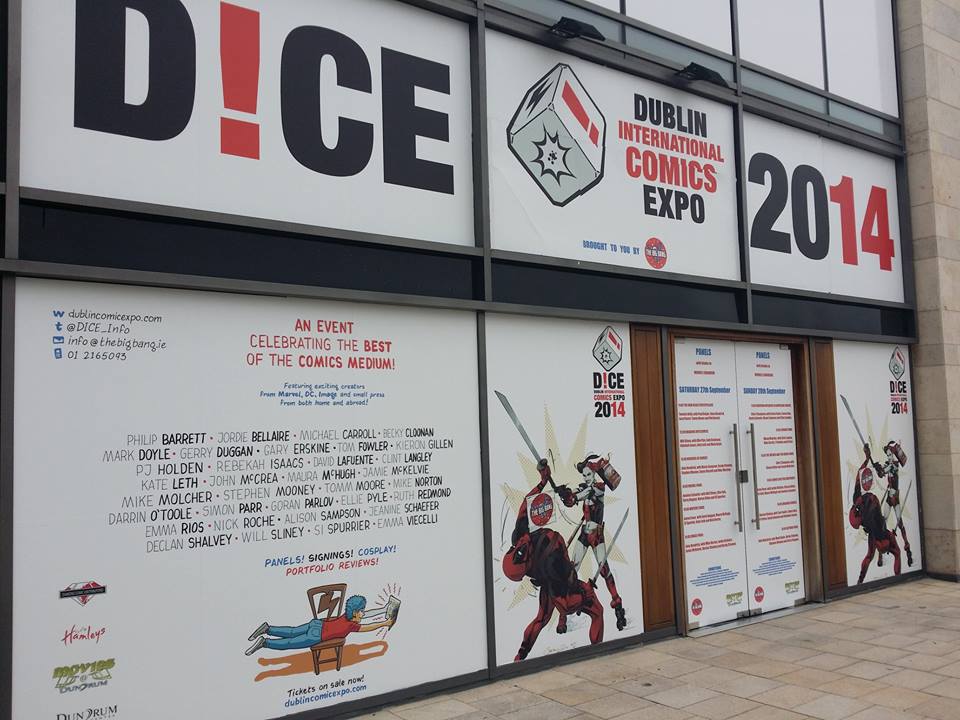 On first entry, it would be easy to think the event is free, as there's no ticket sales for the ground floor. This isn't the case, they simply made the indie-press and trade hall free entry for anyone to come in and browse, with tickets required upstairs for the guest hall and panels. For the type of show it is, and the prime location smack dab in the middle of Dundrum shopping centre, this is one of the smartest and most endearing moves for an event of this kind and size. The usual stalls you'd expect from a convention were here – Dublin City Comics had their normal corner with their normal selection box of basically anything comic-y you'd care to get your hands on, and The Big Bang had a stall as well, with two retailers having rake loads of back issues on offer for collectors, as well as other varios tables with selections of goodies to be bought and bartered for, some custom, some collectible, all awesome. Amongst these stalls was the ever-present line-up of indie-press, of which I did my usual browse and picked up Lightning Strike #3 (if you aren't reading it, you should be, crackin' good book). The trade area was mostly consistent with any other convention, but I happen to enjoy the format, so it worked for me. Just make sure to give the little guys making books and comics and art for the love of it some of your time. Genuinely nice, talented folk there who deserve your custom.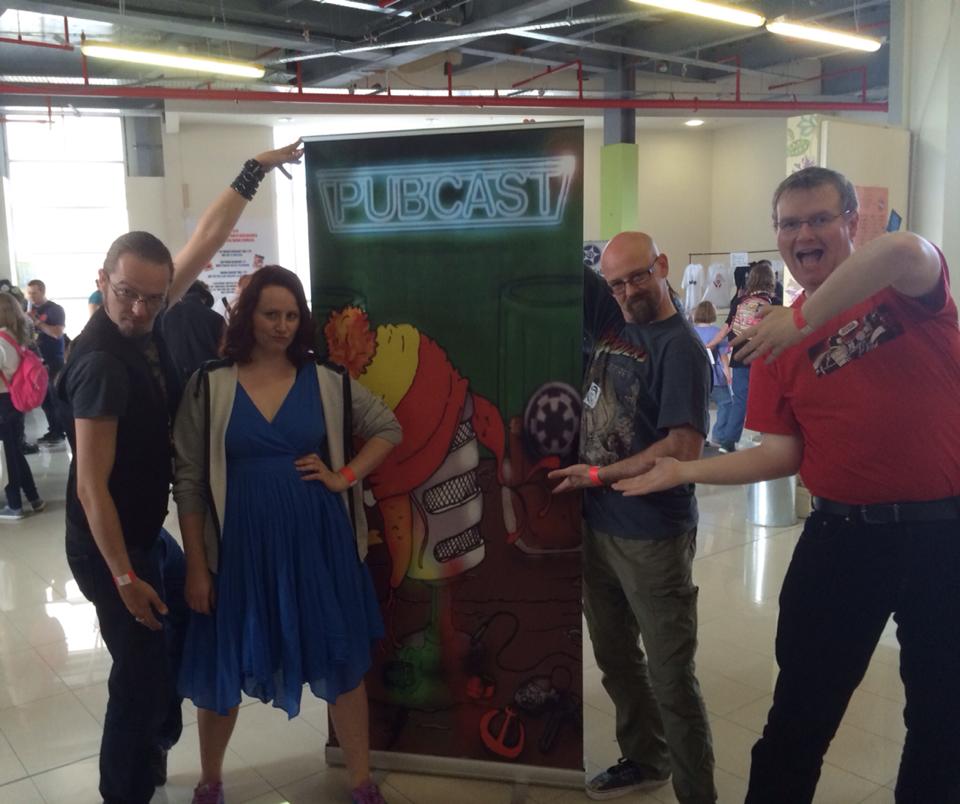 The real treat, though, is of course the guest hall, and man, this was EXEMPLARY. There were a few empty seats strewn around the room as several were off doing a panel (more on these a little later), but the variety of guests (including our friends the Irish Pubcast, pictured!) and layout was something to behold. Basically, right, imagine a decent-sized room, now imagine tables lining the walls of that room, and now imagine behind each table is an artist/writer/inker/colorist/editor/publicist/editor of a Marvel, Image, DC or 2000 AD book. I wasn't sure where to start getting my stuff signed, but I decided to visit Mr. John McCrea's table first to get my copy of The Boys: Herogasm signed, along with buying one of his awesome prints (I got his Venom one, A3 – top class). John was lovely and welcoming, and from there I visited Becky Cloonan, who was celebrating the early release of her DC book Gotham Academy, which I got signed, Jordie Bellaire, and our very own Will Sliney and Ruth Redmond and on and on. All of the guests were incredibly gracious and good for a quick chat and discussion about their books and projects – other Arcade alumni in attendance had stacks of comics to get signed and there wasn't a grievance aired. More the merrier and lines were started just so that someone could get their stack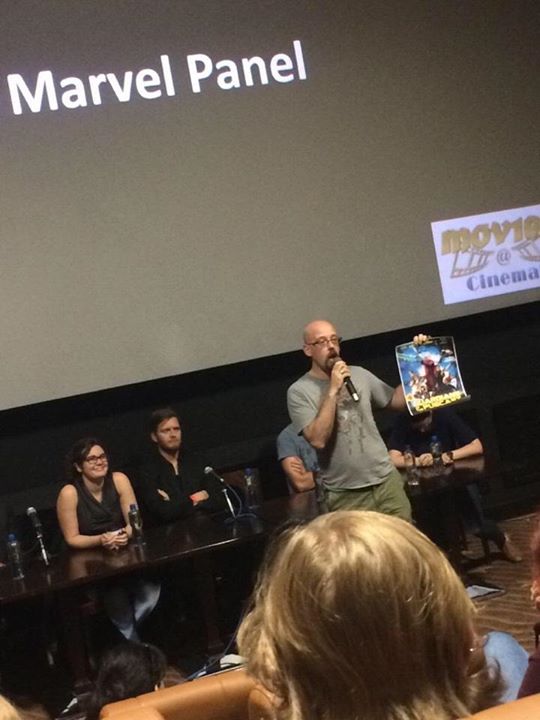 sigged. The steady, constant busy-ness of the guests was beautiful to see, but also my only grievance; I was unable to grab any of them for an interview due to their being busy signing books whenever I was in the room. But its a small price to pay to see such great talent get steady recognition.
On to the panels, which returned to their home of Movies @ Dundrum Screen 2. This is such a wicked panel venue, the sound/crowd setup is perfect, easily the most comfy I've been at a panel at a convention. The selection was across the board; Drawing comics? Check. Comics Are For Everybody? Check. All major comics companies with an ensemble panel? Check. From the business to the creation of this wondrous medium to the discussion with creators of some of the best books currently on sale – including Wicked + The Divine and the now annual Batman panel, there was at least one panel for your preferences. My personal favorite was the aforementioned Batman panel, with Becky Cloonan, Gerry Duggan, Stephen Mooney and Mark Doyle. Between learning about the upcoming Bat stories and Becky and Gerry's new Bat-related comics, it was a highly informational hour.
In closing, go to D.I.C.E next year if you're a fan of comic books. I'd like to thank The Big Bang for giving us a press pass, next year I intend on arriving earlier and getting some interviews and attending more of the panels as this is one event that's evaded me for too long. D.I.C.E 2015 can't come soon enough!