Music Monday 20/10/2014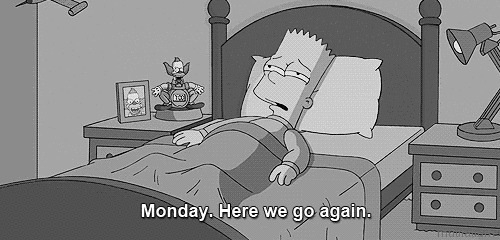 Do you ever get home Friday after a long week in work/school only to go to bed and wake up to find that somehow it's Monday morning?  You better say yes to that otherwise I'm going to start googling symptons and my hypochondria won't be stoppable! My weekend is missing and Monday feels just that bit tougher to get through and that's before I look ahead to the rest of the week and the workload that awaits!
It's days and weeks like these that you need music to kick you in the ass, not to lift your spirits but to literally kick your ass from Monday morning to Friday evening!
So expect power ballads, high energy dance and anthems to live by!
Marvin Gaye & Tammi Terrell – Ain't No Mountain High Enough
It's probably best to start here, Monday is my mountain and it's pretty damn high but like Marvin and Tammi sing "…there ain't no mountain high enough…To keep me from getting to you, baby"… the baby here is Friday afternoon! I'll put my hands up here and admit that I thought this was a Diana Ross song, I didn't know that Gaye and Terrell recorded and released it three years previous to the former Supremes singer. Most people will associate the track from Marvel's recent release Guardians of the Galaxy but my first encounter with it was Step Mom in 1998 (does that sound kind of hipstery?).

RuPaul – Champion
I actually can't listen to this without getting the urge to sissy my walk, 'werk', dance so fierce and pull some serious fish! Okay shoot me! I'm on a mega RuPaul's Drag Race binge and it is sneaking it's way into my mannerisms and speech subconsciously all thanks to the amazing songs by RuPaul which feature on the show…and are available on iTunes.

Belinda Carlisle – Heave is a Place on Earth
This was Carlisle's only real big chart-topper earning the number one spot in the US, UK, Ireland and several other countries. The 1987 track is known for it's music video as much as it is Carlisle's singing, directed by Academy Award winner Diane Keaton, random but it works.

Eurythmics – Sweet Dreams
From one random video to another, I'm obsessed with this one and in particular Annie Lennox. A cow in an office, a man with a viola? spinning in a field in what appears to be winter (although it could be a British summer)! This is the song that revitalises me at the end of the night, this plays and you best clear out of the way of the dancefloor. For the energy I need to get through the week, this is more than enough!
Florence and the Machine – Halo
I don't care what you're about to say, this is an amazing cover. This is my midweek slump song, unable to go on, trying to drag myself through that Wednesday/Thursday dry spell then something different is needed. A different kind of song with a different kind of energy, this… is… perfect, a twist on a power pop ballad.

Sonique – It Feels so Good
Sonique's 1998 track later re-released in 2000 was my first real taste of dance, sure I'd encountered plenty of times before but this got under my skin and  much like the rest of the world, I had this on loop for weeks!

Audio Bullys/Nancy Sinatra – Shot Me Down
It took sometime for this 2005 track to work it's way into my repertoire and collection, I think it was the video that put me of the most. That said it has since become one of my favourite electronica tracks, surging with big beats but mindful not lost to Nancy's voice in the process.

Editor-in-Chief, part-time super villain and hoarder of cats. If you can't find me writing, I'm probably in the kitchen!