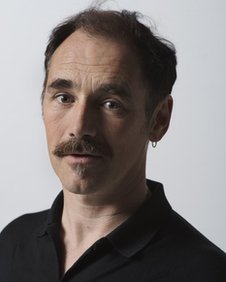 The Steven Spielberg-helmed BFG adaptation has found its loving giant in Mark Rylance. DreamWorks Studios made the announcement this morning that the three-time Tony winner and two-time Olivier Award winner would be steeping into the big shoes of the giant from the 1982 classic, which is set for a July 2016 release.
Speaking on his choice, Spielberg stated, "As I witnessed on stage, Mark Rylance is a transformational actor. We are ecstatic at this choice. Mark is incredibly talented, one of the great British actors working today. I've had the privilege of seeing Mark perform, and the thought of watching him transform into 'the only nice and jumbly Giant in Giant Country' is, as The BFG himself might say, absolutely phizz-whizzing."
Rylance and Spielberg are currently working together on an as yet unnamed thriller with Tom Hanks, while Rylance also has several other projects in the works, including an adaptation of Wolf Hall with the BBC.