Friday Five at Five 24/10/2014
Another week another five things you might have missed – the Arcade has got you covered!
#5 Jaden Smith for Static Shock

Earlier this week it was announced that a live-action series based on the DC comic Static Shock was given the green light by Warner Bros. It seems almost natural that Warner Bros. would want to recreate the success from the cartoon run combined with other hit TV shows such as Arrow, The Gotham and the soone to be released Constantine.
The series is to be headed by Reginald Hudlin of House Party fame and also known for producing Quentin Tarantini's Django Unchained.
While no official casting news has been announced, rumour are spreading that the producers are looking for Jaden Smith to play the lead. It couldn't hurt that his mum Jada is a bit of a hit with Warner Bros on her work with Gotham.
But what do you think? Do you think this should happen?
#4 Quicksilver Solo Movie?
If you're like me then you love Evan Peters in everything he does and his character in X-Men: Days of Future Past was a highlight of the movie.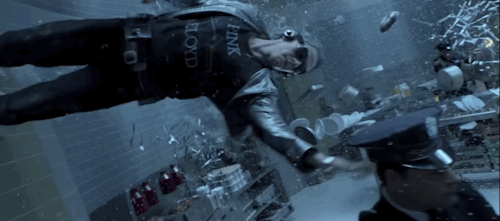 In a recent interview with Newsarama, X-Men: Days of Future Past second unit director Brian Smrz talked about the possibility of a solo Quicksilver film.
"We talked about Quicksilver before, I'd love to do a Quicksilver as a solo film because there's a lot to enjoy with that character. But I'm not geared just towards superhero movies; for me it's about great main characters, and finding movies that have that."
Should this be a reality?
#3 Air New Zealand Safety Video
You're gurarenteed to listen to this safety video brought to you by Air New Zealand and featuring Elijah Woods, Peter Jackson and many more.

#2 New trailer for The Woman in Black: Angel of Death
A new trailer was recently released for the upcoming spooky movie The Woman in Black: Angel of Death. Following the success of The Woman in Black is back for a visit
Taking place 40 years after the first haunting at Eel Marsh House, a bunch of children are evacuated during World War II arrive there.
While there are no familiar faces (there's no Daniel Radcliffe for a start, nor is director James Watkins back behind the camera. Jane Goldman hasn't penned the screenplay this time either) the film still looks to be as much as a thriller as the first. But why not judge for yourself with it's release set for January the 1st in the UK.

#1 The Magic Faraway Tree to get its own movie
OK quick note…I'm super excited by this news!

Sam Mendes of Skyfall and American Beauty fame has eyes on the prize as Mendes' production company snaps up the film rights to Enid Blyton's Magic Faraway Tree Books.
At this stage, it's up in the air, but it seems clear that Neal Street Productions wants to get the Magic Faraway Tree on the big screen. Now we're not sure whether character names such as Moon Face and Fanny will make the translation but we're pretty confident that Saucepan Man and Silky the Fairy are on safer ground.
Watch this space for more news!
That's it for another week! Let us know what you think and keep watching the site for more breaking news even if you missed it!