Book Club Review: Flare

It's time for new Heroes. Ryan Curtis is an almost average teenager. There's just one small problem: his parents are superheros.Ryan just wants to be normal but instead his family life is full of danger, excitement and action, but then the traffic actions of a demented scientist means he has to go into hiding. Now he's being chased across the world by a secret organisation which really wants to harvest his organs. He's tired, lonely and needs help, but all he had for support is a nineteen year old woman with serious anger issues and an eccentric Japanese inventor. Now they have to team up, defeat the bad guys and save the world.
I loved this book! Written by Mullingar local Paddy Lennon, with cover art by Ben Hennessy and design work by Miriam Abuin, Flare is a superhero novel with a difference. In an interview with timewarriors.co.uk Lennon reveals the reason behind the book – simply put, Lennon has always loved Superheroes and he wanted to add his own special take on it. Well I say he definitely did that in Flare. The storyline is easy to follow and action packed. In fact one of the things I loved about this read and it's uniqueness is that it reads like a graphic novel and it certainly left a truck load of visual images of epic fight scenes! The story had me guessing at times and definitely kept me entertained.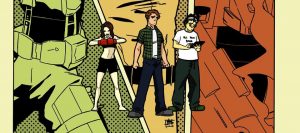 The one critique I would have is that it's sometimes difficult to differentiate between the different narratives of the characters. We don't get a visual indication that the character has changed but that could be due to a personal preference. The characters are engaging with an even balance of both male and female good guys and bad guys. I also loved the origins of the three main characters, Ryan Curtis, Hiroshi Saito ( not to be confused with the Japanese footballer) and Aimee DeWitt. I was also fond of the characters involved in The Vanguard – Flare's answer to The Avengers or Guardians of the Galaxy. Lennon spoke about one of his favorite shows being Buffy the Vampire slayer in his childhood and I could definitely see an influence in the teams dynamic. I could also see the makings of it in the new blood – Flare, Mech and Revenant.
While Aimee's origin story was more typical of superhero origins, personal tragedy forms vigilante – a female Bruce Wayne if you will, what makes her interesting is the fact that this similarity does not dismiss her strength as a character and her innovation and dedication to the cause.
Away from that then we have Hiroshi Saito, the Iron Man of the group. This character's humble beginnings as a cosplayer gives us an interesting take on a superhero origin story.


Then we have the main protagonist, Ryan Curtis. While the idea of having superhero parents sets us up for the inevitable transformation of Ryan into what we need him to be, how it comes about is one of the triumphs of this novel. I really felt for this character and found myself passionately routing for him throughout – especially when dealing with the villains.
Every superhero saga needs a great villain or two and Flare delivers in sstyle! I really enjoyed the villains origins and the twists and turns that come with it. I could sense their convictions in fighting for their side and towards the end of the novel we know we haven't seen the last of them!
Lennon does a fantastic job of captivating the reader by well timed action sequences that pack a punch. As mentioned earlier, this really reads like a graphic novel – a great strength in my opinion – and this is felt strongly in the climactic final boss battle! I even found myself reading and rereading this battle for the visual affect!
So if you're looking for a read that's fun, action-packed and full of great characters then this is the one for you! Lennon captures his love of science-fiction, Superheros, books and action and put them into these characters for us to enjoy.
Lennon has also more or less finished the sequel, Shooting Stars, which should be available in 2015 and I, for one, look forward to reading it.
For now though you can enjoy this work which is available on Amazon as an eBook and in print. Its also available on the Kobo store for this of you who have a Kobo e-reader and there may also be a few copies in Forbidden Planet and Dublin City Comics!
Don't forget to also check out the Facebook page and find Paddy Lennon on twitter @paddylennon1.
Next month I'll be diving into Joe Hill's 2010 dark fantasy Horns. As always your comments are greatly appreciated so be sure to let us know what you though of this months or next months read and if you've any suggestions they're always welcome!