Y: The Last Man Film Is 'Not Happening' Confirms Director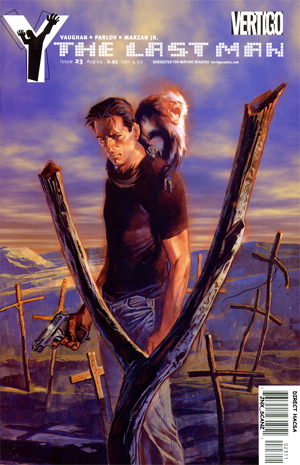 It's been in production purgatory for the last God knows how long, but finally the director attached to the Y: The Last Man big screen adaptation has confirmed that the film will not be happening. Dan Trachtenberg took to his twitter account to clear up the rumors and state that the project has been abandoned. However, fans of the series will be happy to know that the rights the adaptation are in safe in the hands of series creator Brian K. Vaughn, currently of Saga fame, and Pia Guerra.
Speaking to /Film on the movie he was going to make, Trachtenberg stated, "I was excited to make an ADVENTURE movie, with swashbuckle, that was fun and funny but had something to say. Which is something that is distinctly BKV. Having real, true, honest, people stuff amidst the big, fun, action stuff. We were in many ways quite faithful to the comic, though some characters were combined and some events re-arranged and some brief moments of action we dug into to create bigger action/adventure sequences.
The script was essentially the first two trades. Taking inspiration from the original Star Wars (Episode 4) – we wanted to tell a complete story…but not the whole story. Hoping that, in success, we could get tell the rest of our serialized adventure.
Raiders of the Lost Ark was referenced a lot. Midnight Run and Big Trouble in Little China were referenced a lot. Willow and Ladyhawke I may have referenced a little too often…"
Always sucks hearing what could have been, specially in the rare case when a fan gets attached to a project such as this. Some things just aren't meant for adaptation, though, and Y: The Last Man would be an ambitious project for anyone. For the time being, the books will more than suffice!