SuBLime Announce Exciting New Manga
SuBLime the world's leading yaoi manga publishing enterprise between VIZ Media and Animate have announced details of brand-new and on-going yaoi manga titles in its panel at YaoiCon 2014 in San Francisco.
The announcement came to the delight of all yaoi fans in attendance but is massive news to yaoi fans worldwide. SuBLime have plans to release Eiki Eiki and Taishi Zaou's LOVE STAGE!! (Rated Mature 'M') with the original print starting in May 2015. This romantic comedy will follow Izumi Sena in his life as an otaku and his dreams of becoming a manga creator although surrounded by his celebrity filled family. Obviously with the 'M' rating there will be as many saucy passages as there will be dialogue.


Momentous news for all yaoi fans with the announcement that February 2015 will bring the debut in Northern America of Shungiku Nakamura's THE WORLD'S GREATEST FIRST LOVE ('M' Rating). Another romantic comedy where a young man realises that his new boss is an old flame of his and bringing with that all the awkward and comedic adventures he is bound to experience.
Another release that is of big interest is the release of episode 2 of INTO ILLUSION the erotic thriller by Ryo Tateishi and Rieko Yoshihara. Fans will be able to catch it the same day it is set to be debuted in Japan.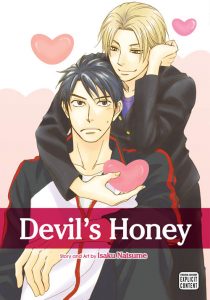 An interesting acquisition that SuBLime also announced was the proposed release of Tomoko Yamashita's "THE NIGHT BEYOND THE TRICORNER WINDOW" Vol. 1 (Older Teen Rating 'T+') which will be debuted digitally starting in March 2015 rather than going direct to print.
Another digital only release is the follow on to Isaku Natsume's DEVIL'S HONEY (which was also published by SuBLime). GINGER HONEY will be a comedic follow up to its predecessor and is planned for a digital only release in February 2015.
SuBLime titles are available worldwide in both print and digital formats for more information please see the official website or follow their official twitter a great connect for any yaoi fan to have.
www.SuBLimeManga.com @SuBLimeManga