Friday Five at Five – News You Might Have Missed
Another week has come and gone and that means time for another Friday Five at Five!
#5 Matt Damon and Paul Greengrass to reunite for Bourne 5…maybe
A while ago, Matt Damon said the only way he would come back to the Bourne franchise was if Paul Greengrass would return as director. Well that might well be the case as has Deadline has reported that Universal Pictures are now negotiating terms with both Damon and Greengrass to reunite to make another Bourne film.
Greengrass and Damon are in the process of making a deal with Universal. After the success of The Bourne Supremacy and The Bourne Ultimatum, Universal knew they had to make a deal to bring them back. Greengrass had previously commented that there was no more creative story left in the world of Jason Bourne, but apparently, there is now! Watch this space for more on that development!
What are your thoughts on a possible new Jason Bourne movie?
#4 Fox developing pilot for DC comics' Lucifer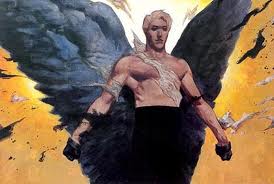 Another one to add to the list (Arrow, The Flash, Constantine and Gotham all hitting our screens this autumn, as well as rumoured Titans and Supergirl series apparently entering development) as it's been reported that a pilot for Lucifer enters production!
If reports are to believed a pilot episode is currently being pulled together by Warner Bros.
Like Constantine, Lucifer comics are published under DC's riskier Vertigo imprint. The DC version of Lucifer began life as a supporting character in The Sandman, but we wouldn't expect to see any crossover between any potential series and the film adaptation of The Sandman coming to the big screen.
We're told that the TV version centres on Lucifer at a point where "bored and unhappy as the Lord of Hell, [he] resigns his throne and abandons his kingdom for the gorgeous, shimmering insanity of Los Angeles, where he opens an exclusive piano bar called Lux."
#3 Hatsune Miku to perform on David Letterman on October the 8th

The popular fictional singer, Hatsune Miku, the popular fictional singer voiced by a singing synthesizer application, has been performing in many concerts, including at Anime Expo 2011 and as an opening act for Lady Gaga.
Well it looks like she'll be performing on The Late Show with David Letterman on October 8th, according to Hatsune Miku Expo.
Miku will be performing a song while also showing off the 3D technology that makes it look like she's actually performing on stage with live band members.
#2 New posters for Christopher Nolan's Interstellar

With a release date of November, Christopher Nolan's Interstellar now has two shiny new posters for the highly anticipated science fiction film.
The first poster from Yahoo features Matthew McConaughey standing next to Mackenzie Foy, who plays his daughter, as they stare out into the sky. Jessica Chastain will be playing an older version of Foy, so that means we might see McConaughey aging slowly due time standing still for him at his destination. Time will only tell!


#1 Kate Mara to join Fox's The Martian?

House of cards star , Kate Mara has been offered the female lead in 20th Century Fox's The Martian. According to the Deadline report, if Mara were to accept the role she would be starring opposite Matt Damon in the Ridley Scott filem.
The Martian is based on Andy Weir's 2012 e-book publication, which issued a print edition this past February.
Mara will soon be on the big screen in next summer's The Fantastic Four starring as Susan Storm, the Invisible Woman

That's it for another week folks! Don't forget to share your opinions and thoughts on the news this week and leave a comment below!