Friday Five At Five – News You Might Have Missed
TGIF! What a week that was – but now sit back relax and catch-up on the five news items you might have missed:
#5 Marvel Reveals Anti-bullying Covers

Some of your favourite Marvel heroes stick by victims of bulling in Marvel's work on anti-bullying message by releasing inspirational covers for its October issues. Captain America, the Hulk and the Guardians of the Galaxy appear in these fantastic covers which are part of the STOMP Out Bullying campaign during Blue Shirt Day on October 6th to bring awareness.
The five covers can be seen below, with the rest of the Avengers and Inhumans to follow.

Via MTV
#4 Pratchett and Gaiman's Good Omens coming to BBC Radio 4
Here's some news to put a spring in any fantasy fan's step: following the success of 2013's splendid Neverwhere dramatzsation, BBC Radio 4 is working to recreate the magic with another UK modern classic, Terry Pratchett and Neil Gaiman's 1990 novel Good Omens.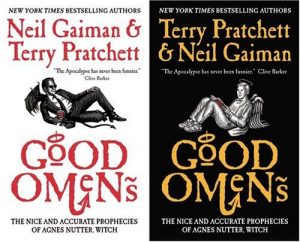 Due in December 2014, Good Omens will air in six parts over a single week and is the work of the creative team behind Neverwhere with Dirk Maggs adapting and directing, with the assistance of producer Heather Larmour and of course, Neil Gaiman.
It's the first time the co-authored novel, a story of ancient prophecies, impending armageddon, and sushi, has been adapted for radio, with progress on a much-anticipated film version with Terry Gilliam appearing to have put on hold for the foreseeable future.
With a whopping cast including Guardians Of The Galaxy's Peter Serafinowicz and Green Wing's Mark Heap and many, many more, and maybe even be cameo appearances from both authors, I don't know about you but I am excited!
#3 Ra's al Ghul has been cast for Arrow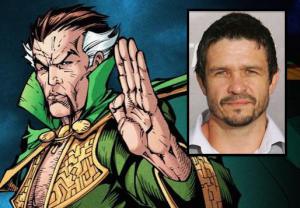 It's recently been announced on  Stephen Amell's Facebook, he confirmed that Riddick's Matt Nable has been cast as Ra's al Ghul in the CW's Arrow. While it would have been great to see Liam Neeson reprise his role as Ra's, a move he would have welcomed, it seems like Arrow casting wanted to differ from the movie universe.
The jury remains out on this one! What do you think of the casting choice? Let us know.
#2 X-Men: Apocalypse shoot starts April 2015, returning to Canada
The X-Men are set to return to filming in April 2015, in anticipation of the 2016 release for X-Men: Apocalypse.
Work is set to begin in December on the set construction required for 2016's X-Men: Apocalypse, and director Bryan Singer will lead his company of mutant characters back to the big screen. Following the huge success of X-Men: Days Of Future Past the new film will explore that tease at the end of the credits!
We still await casting details of just which mutants are in and out, but we'll keep you posted on those. X-Men: Apocalypse is released in May 2016.
#1 Destiny: Become Legend – The live Action Trailer
And now for a bit of eye candy to close off this week,  brought to you from the people at IGN this new 2 minute trailer features a fire-team on a mission and is directed by Joseph Kosinski of Oblivion and Tron Legacy fame.
Watch the live action trailer below: