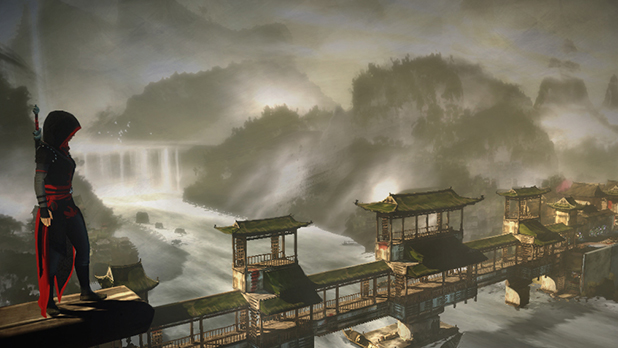 Assassin's Creed: Unity has been surrounded by some questionable press given Ubisoft's PR statements around the time of E3. Sure enough though, Ubisoft have managed to trundle on regardless, maintaining the promotion of the title with near constant videos and screenshots to get people excited for the new generation début of the Creed. They've turned their attention to the 'season pass' that can be purchased upon the game's release now, with Assassin's Creed Chronicles: China –  a 2.5D piece of DLC available to those who pre-order the season pass for $29.99.
Ubisoft stated on their blog: "Take your adventure beyond France to a new standalone story set in 16th century China starring Shao Jun, a fan-favorite from the Assassin's Creed Embers animated movie. Trained by Ezio Auditore, Shao Jun has returned to Beijing as the last remaining Assassin of the Chinese Brotherhood. Hell-bent on revenge, she will strike out against those who destroyed her Brotherhood.
Experience an entirely new setting for the franchise in a beautifully stylized world inspired by traditional brush paintings. Shao Jun's powerful martial arts skills and new Assassin gear like the Jian Sword and the Foot Blade will allow her to eliminate her targets from the shadows or take on groups in all-out combat. Explore legendary landmarks like the Great Wall of China and the Forbidden City and encounter famous historical figures in this new 2.5D digital download title."
Shao-Jun was last seen in 2011 animated short Assassin's Creed: Embers, so logic dictates this is a continuation of that, but we'll find out when we get our hands on it.
The DLC, along with all the other usual bits and bobs that come with a season pass, are expected to be released early 2015.