THREE NEW POKÉMON MANGA BOX SETS ANNOUNCED

Pokémon Adventures Ruby & Sapphire Box Set and the Pokémon Black and White Box Set 2 are scheduled for a US release on September 2nd  while a new Pokémon Adventures Diamond & Pearl/Platinum Box Set will be available on October 7th. For fans and collectors here in Ireland, we're going to have to wait a little longer with a release for Ruby & Sapphire / Black & White expected October 9th and Diamond & Pearl/Platinum expected to arrive 6th November.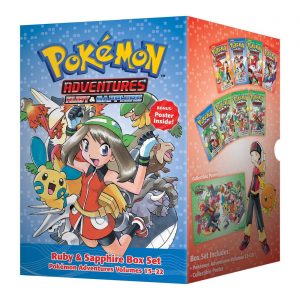 "Ruby's father Norman is the new Gym Leader of Petalburg City. But Ruby doesn't want to follow in his father's footsteps – he wants to win Pokémon Contests! Sapphire's father Professor Birch is the local Pokémon researcher. But Sapphire is tired of gathering scientific data – she wants to win Pokémon Battles! When Ruby and Sapphire meet, they're more likely to hit each other than hit it off. But then Sapphire challenges Ruby to a competition! Which of them will achieve their dreams in just eighty days?!"

"Black has dreamed of winning the Pokémon League! Now he embarks on a journey to explore the Unova region and fill a Pokédex for Professor Juniper. White has an exciting career as the Trainer of a talented troupe of performing Pokémon. She dreams of making her Tepig Gigi a star! Together, Black and White continue on their journey… What surprising new Pokémon – and people – will they meet along the way?!"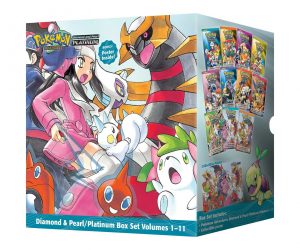 "Pokémon Trainers Pearl and Diamond are starstruck! Their goal? To perfect their Pokémon comedy act. So how do they wind up as bodyguards to a pampered little rich girl on a quest to reach the peak of Mt. Coronet?"

Pokémon manga are rated 'A' for All Ages and each of the forthcoming sets also features a collectible full-color poster.
Editor-in-Chief, part-time super villain and hoarder of cats. If you can't find me writing, I'm probably in the kitchen!