Shaun and Ed return for Phineas and Ferb Special
The undead zombie cat has been left out of the bag – our zombie survivalists and inseperable duo, Shaun and Ed will return!

Here's news, @nickjfrost and myself will be once again stepping into Shaun and Ed's shoes for the #PhineasAndFerb Halloween special. W00t!!
— Simon Pegg (@simonpegg) August 18, 2014

It was the film that would make the names of actors Simon Pegg, Nick Frost and director Edgar Wright and 'Shaun of the Dead' would go on to become one of the most acclaimed British horror/comedy films. The zombie flick was the first film in the 'Cornetto Trilogy and was follow by Hot Fuzz in 2007 and World's End last year and while Pegg and co. have been adamant that no sequel will take place it now seems that there is hope that the characters of Shaun and Ed will return for a once off special for Disney's Phineas and Ferb.
Pegg and Frost will be reprising their roles as Shaun and Ed in the special Halloween episode of Phineas and Ferb but it's not been reported as of yet whether their characters will be portrayed from before the events of their own movie or after it – in which case Frost's portrayal in particular will be very important! This isn't the first time that the animated Disney duo have crossed over with different franchises having team up with the likes of Spider-Man, Hulk and most recently a special cross over with Star Wars.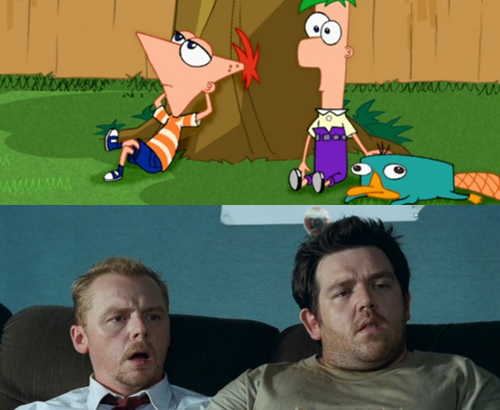 Editor-in-Chief, part-time super villain and hoarder of cats. If you can't find me writing, I'm probably in the kitchen!