Friday Five at Five – News You Might Have Missed
Another week, another weekly round-up of things you might have missed in the news! The Arcade has your back:
#5 New trailer and release date announced for Telltale Games' The Walking Dead Season 2 Finale, 'No Going Back'
The finale for The Walking Dead Season 2 is almost here and we're holding our breath as we find out the answer to the all-important question: "Who will you become?" – or rather, who will Clementine become.
Warning the following trailer contains spoilers:

Telltale games have announced the following release dates for the following platforms:
August 26th: PC/Mac via Steam, the Telltale Online Store and other digital distribution services; on the PlayStation Store in North America (SCEA) for PlayStation 3 and PS Vita
August 27th: Xbox LIVE Marketplace for Xbox 360 video game and entertainment system from Microsoft; on the PlayStation Store in European territories (SCEE) for PlayStation 3 and PS Vita
August 28th: Available as an in-app purchase within The Walking Dead: Season Two on the iOS App Store
#4 Chris Pratt further proves how perfect a human he is!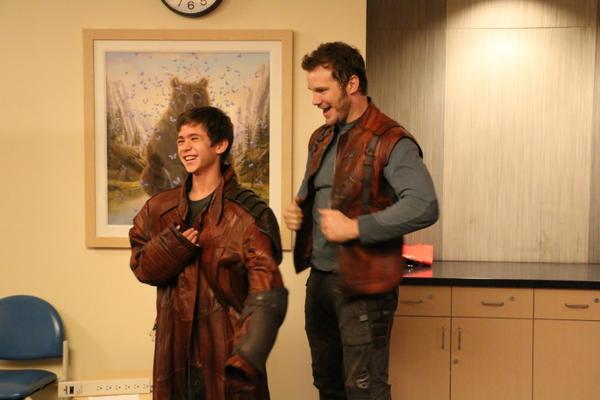 Could this man be any more perfect? Chris Pratt has added to his list of awesomeness recently by visiting a children's hospital and giving toys to kids while dressing up as Star-Lord from his big blockbuster Guardians of the Galaxy.
Chris Pratt teamed up with Marvel and Children's Miracle Network Hospital to plan the special screening for those who couldn't see Guardians of the Galaxy in theatres, according to E!
Pratt stayed at the hospital for three hours to hang out, take photos, sign autographs and give out movie-themed toys from Guardians of the Galaxy and The LEGO Movie.
It also seems that Pratt wanted to channel his character Star-Lord by stealing his jacket in order to dress up as his character for the children.

#3 Shane Black to direct The Destroyer
Sony Pictures hires Iron Man 3 director Shane Black to tackle adventure-action movie The Destroyer.
The project is being written by "Fight Club" scribe Jim Uhls in collaboration with James Mullaney, who co-authored a two fisted classic. "The Destroyer" is an adaptation of the adventure series by Warren Murphy. Set in the 1970s-era where Newark police officer Remo Williams was framed, sentenced to death, then resurrected following a botched execution. He is given a second lease on life serving in the enforcement arm of the clandestine U.S. government agency CURE. Williams teams with the Asian assassin Chiun and together they clean up and eliminate those who oppose America's interests.
Charles Roven, Steven Chasman and Andy Horwitz will produce the film. Sony has no release date yet.
This is not the first cinematic adaptation of the novel, it was first made into a movie in 1985 starring Fred Ward as Williams.
#2 David Yates to direct Harry Potter spin-off Fantastic Beasts and where to Find Them
it's been reported this week that Harry Potter director David Yates is set to return to J.K. Rowling's wizarding world as he steps in to helm the first Fantastic Beasts film.
The report in Variety  suggests that Yates, who directed the last four Harry Potter films, has agreed to return for the first Fantastic Beasts spinoff film, based off of J.K. Rowling's Fantastic Beasts and Where to Find Them.


No deal has been set yet but sources confirm that Warner Brothers and Yates are currently negotiating. Harry Potter producer David Heyman has also be tied to this adaptation so it looks like it could be a match made in heaven.
The movie was announced back in September, with J.K Rowling writing the movie's screenplay
Yates is currently undertaking filming his Tarzan reboot until November so the director shouldn't have to move too far at all when he begins production on the first Fantastic Beasts film as it will be filmed in the same location Leavesden Studios once again – also the same studio in which they shot all eight of the Harry Potter movies.
Prisoner of Azkaban helmer Alfonso Cuaron was offered the directorial gig earlier this year but turned it down.
#1 Azure Striker Gunvolt to include free 8-bit title The Mighty Gunvolt
Azure Striker Gunvolt has gotten a little more interesting as of late with the announcement from Inti. Creates.
Everyone who buys the game during the first three months when it launches on the Nintendo eShop will be getting the 8-bit title Mighty Gunvolt for free a familiar title to fans of the Mega Man series.
Beck from Mighty No. 9, Gunvolt from Azure Striker Gunvolt, and Ekoro from Gal Gun will all be playable in Mighty Gunvolt, and it will  include five playable stages complete with end bosses, all inspired by three different franchises completely in 8-bit graphics.