Cosplayer Nation – A Film About Cosplayers For Everyone!
Amy King is a cosplayer and founder of Cosplay Ireland. She has been involved in the Irish cosplay scene for many years working closely with a number of events and conventions including Eirtakon and Experience Japan. She endeavours to have the film 'Cosplayer Nation' (reviewed below) screened at as many Irish events as possible promoting not only the movie but the culture and art of cosplay.
Amy is hosting a panel on Cosplay in mainstream culture and on people sharing their passion with two other panellists on at 2pm-3pm From Sequins to Rivets: A Look into Cosplay at Shamrokon Sunday 24th of August.
_______________________________________________________________
Cosplayer Nation feels more like an adventurous journey with the many different types of cosplayers out there than a documentary. Uke Li and Joshua Adams a duo from the United States are the brains behind this wonderful project, and it took them three years to give us this story.  We see that the conventions are rituals for these cosplayers, a place for them to forget about their normal lives back home and meet like-minded folks.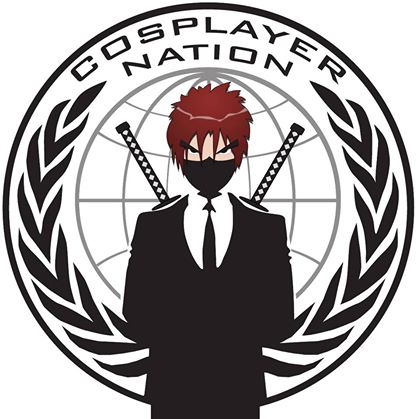 The documentary starts by taking us through the history of cosplay, beginning at WorldCon 1939, then onto 1984 when Japanese Sci-Fi reporter Nobuyuki Takahashi coined the term, to the growing boom in Japan. The film also focuses on the entertainment where cosplay comes from; comics, anime, manga and games! It touches on pop cultural references which I personally found interesting giving I have a Culture and Society degree and studied pop culture.
Japanese cultural academic and who wrote the fantastic book From Impressionism to Anime (2007) (which I highly recommend to read if you are interested in Western fascination with Japanese art) Susan. J. Napier quotes on Japanese cosplay and on the entertainment behind it;
One of the things people say about Japan they are very very good at cultural procreation, they are relevantly good taking elements from all kinds of different cultures from around the world and then bringing them into their own and "Japanising them" to recreate them in a very Japanese way. Japan has a long history of cultural borrowing. They even Japanese a lot of American Science Fiction, Robert A. Heinlein's Star Ship Troopers which is all about mobile suits which became Mobile Suit Gundam, Evangelion and all these famous anime series. Japan is very dress up culture from the Noh, Kobuki and Geisha.
I had never realised the likes of Anime series Mobile Suit Gundam and Neon Genesis Evangelion were inspired by western media like Starship Troopers.

From the documentary Nobuyuki Takahashi, founder of the term "cosplay";
We don't think that Japan was the only country that had growth in cosplay. Many countries are enjoying cosplay and it is steadily growing.
Like me if you are a fan of Japanese pop-culture you will enjoy the fact that Joshua and Uke interviewed academics in this documentary as it adds a level of depth not normally seen in such projects. They interviewed Roland Kelts author of Japanamerica (2006) who commented that humans always had a history of dressing up, wearing masks and being somebody else and comments further on historical dress up.
Cosplayer Nation's film is extremely wide-ranged; exploring different opinions and the difference between "dressing up" and "cosplay" is clearly explained.
We see an amazing Mr.T cosplayer from the A-Team who won a competition; he looks identical to the character and acts in character while Joshua interviews him. We see the same with two Batman cosplayers putting on Christian Bale's voice which was quite hilarious! What I really liked about this film it is not just an educational documentary explaining about cosplay, the film doesn't hold back and pushes boundaries. They tackle the negativity and hatred of some in the cosplay community such as racism.


Cosplay is becoming mainstream like it or hate it?! We are extremely creative people, smart and ambitious, even Hollywood notices that but we are standing in our own way. We see in the film that cosplay is growing, businesses and marketers are realising the potential cosplay has as San Diego Comic Con becomes more corporate, inviting big movie stars and actors. We had something that is ours but culture will grow and should be shared. I was pleased that Cosplayer Nation highlighted the negative side to the scene as well as the good.
After revealing coverage of the darker side of the scene, the documentary then cheers us up showing Anime cultural entrepreneur Danny Choo going out into the streets of Tokyo dancing away in his Storm Trooper costume with not a care in the world and then people join him (as pictured). Perhaps this is symbolising just do what you love and the rest will follow.  This is the type of film you can show your parents or a friend who know little about Cosplay.  The cosplayers in this film will blow your mind, unreal, they put their passion into it either they make their costume or commission them. It really doesn't matter as long as they carry it well and love what they do.
Cosplayers will relate to this film, some might disagree with the different opinions people shared on the community, the lows of the scene, but what I really loved about Uke and Joshua's work is that cosplayers are portrayed as normal people, who have jobs, do it for fun, do it for passion, for charity, blood sweat and tears. Like every scene there are the haters and there are the kind people who will support you and feel the same way you do. This film expresses the joys of cosplay the amazing and creative people they are, the rewards they receive, the dedication. These people are strong performers.
'Cosplayer Nation' is an inspirational tale and greatly inspired me to continue sharing my passion and will greatly inspire you and will remind you why you cosplay!  The amazing aspect of this documentary film is it really does band the cosplay community globally as one as during the closing credit cosplayers involved in groups and con-organisers around the world express their opinion and joys of the art.  In short, you need to watch Cosplayer Nation's film to see the amazing cosplayers and the work they put into it all and take what you want from it. See it for yourself and go on a journey of self-discovery.
Cosplayer Nation won an award for this documentary on July 6th, 2014 at Florida Supercon and aims to screen this powerful masterpiece worldwide. I aim to have this film screened at Irish conventions and will be doing
Please come and share your thoughts and go watch this film!  You can follow Cosplayer Nation on the links below: YouTube Facebook Twitter