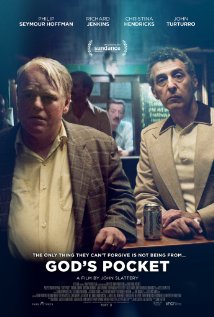 Popular actor John Slattery, who played Howard Stark in Iron Man 2 and currently plays Roger Sterling in Mad Men, has taken to the director's chair for his directorial début God's Pocket. Starring the late Philip Seymour Hoffman, Christina Hendricks and John Turturro, God's Pocket is a story about a conman who attempts to get to the bottom of the odd circumstances surrounding his son's death. Here's the first UK trailer:
When Mickey's crazy step-son Leon is killed in a construction 'accident', nobody in the working class neighborhood of God's Pocket is sorry he's gone. Mickey tries to bury the bad news with the body, but when the boy's mother demands the truth, Mickey finds himself stuck in a life-and-death struggle between a body he can't bury, a wife he can't please and a debt he can't pay.
Based on the novel by Peter Dexter, God's Pocket has received mixed reviews stateside, but gets an Ireland and UK release on August 8th.