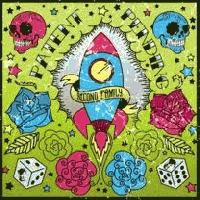 The sun is blazing, school's almost finished for the summer and all we want to do is go to the beach and party! My Music Monday is going to feature seven of my favourite summer anthems to get you through this scorcher of a week. My idea of  'summer songs' are cheesy, preppy and happy songs that make you feel like you've just finished school all over again. Working inside in a shop or office? Put these on anyway and pretend you're at the beach instead!
Avril Lavigne – Here's to Never Growing Up
What need I say about Avril Lavigne? The original pop-punk princess who we're all ashamed to admit we listen to. She made it into the list last week, and she's taking it again this week. This song is perfect for beach trips or just remembering that you can hang out and have fun even if you feel like you're a little bit too old for it.
Don't Stop – 5SOS
Yes, they opened for One Direction. Yes, they're cheesy as hell. Yes, I love them. 5 Seconds of Summer are an Australian group who've taken the world by storm! Upbeat, preppy songs about girls and falling in love, they're exactly the kind of band that make you want to get up and dance. This is personally my favourite song from the group and I will admit, it's been on constant repeat since I got it.
Pitbull ft. Ke$ha – Timber
I don't feel like I need to explain this one, but I suppose I'm going to. Is this a country song? Maybe? Is Pitbull collaborating with too many people? Absolutely. Did we see him teaming up with Ke$ha? Never. Are we glad he did? More than you could know. Timber is a bizarre mix of country, rap and pop that blends together in such a fantastic way. It shouldn't work, but it does.
Patent Pending – The Whiskey, The Liar, The Thief
Everyone needs a sing-a-long, and I could think of no better song than this. This is personally my favourite song. Not just on this list, but ever. Patent Pending are a band from New York who've really found their sound over the last year. Touring with Bowling for Soup, these guys are every bit as happy, if not happier, than Jaret and his uniquely nasal voice. This song is an incredible blend of pop-punk, sea shanty and bar-fight music that is an essential for any beach party.
Bowling for Soup – Shut Up and Smile
One of the most notable names in pop-punk, Bowling for Soup are a band we all listened to in school. Haven't listened to them in a while and wondering what they're up to now? Flick on the Disney Channel and take a peek at Phineas and Ferb. Recognise that voice in the theme song? That's them. The guys are still touring and putting out some amazing new songs, but my summer song is one from a few years back. Shut up and Smile is exactly what it sounds like. I don't know if it's possible to frown with this song playing. Feeling down? Stick this on, grab some ice-cream and hug someone. It's fool-proof advice.
The Dollyrots – Out of LA
For me, this is the 'road trip' song. It's more relaxed than my previous recommendations which makes it a great driving song. It gives the perfect feel for those long, hot trips across the country. A pop-punk band from Florida, The Dollyrots' songs are all kinds of fun. Again, another great beach-party band.
Lilo and Stich – He Mele no Lilo
This songs defines summer for me. The Hawaiian melody is soothing but also upbeat enough for summer nights. Lilo and Stitch is one of those feel-good, fun movies and the soundtrack is no different. Feel free to sub this in for 'Hawaiian Rollercoaster Ride' if you wish, they're both perfect for summer nights.