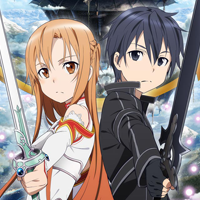 I've recently begun following/watching/wishing I lived in the universe of Sword Art Online, an anime series where MMORPG players wear VR sets that transport them into the game. This afternoon Bandai Namco Games Europe have announced that 'Hollow Fragment' is coming to Europe and Australia this July! 
Based on the novel, manga and anime, Sword Art Online: Hollow Fragment captures the characters and storyline of the SAO universe – a series of virtual-reality worlds set in the near future. Players enter the VR worlds of SAO and discover that the creator of the game, Akihiko Kayaba, has locked them inside these worlds. 

"Adding such a strong license to our portfolio in Europe and Australia is an honour for us. Fans were looking forward to enjoy this game, we listened to them." said Herve Hoerdt, Vice President of IP Strategy at BANDAI NAMCO Games Europe. "Our close collaboration with Sony allows us to release more and more niche games; Sword Art Online: Hollow Fragment is the result of this successful partnership!"
The game will attempt to emulate the world created in the Anime series, offering players a fast paced RPG where speed and expert combos are the key to survival.
Sword Art Online: Hollow Fragment will be a digital exclusive for the PlayStation Vita.
Editor-in-Chief, part-time super villain and hoarder of cats. If you can't find me writing, I'm probably in the kitchen!