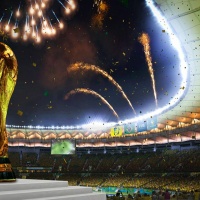 In a perfect world Ireland qualifies for the World Cup and returns home as victors. However, the world is far from perfect as is the Irish football team. FIFA World Cup is as much a game as it is a dream-fulfillment tool allowing you to correct the injustices of the qualifying campaign. Nevertheless, this comes at a price.
Across all their franchises EA Sports have successfully managed to capture the flashy presentation of live sports, outdoing themselves by emulating the festive ceremony and grandeur of the World Cup. The camera glides over realistically rendered stadiums, cutting away to pulsing crowds in the stands or in crowded streets watching on giant screens in their respective countries. If a country has a soccer team eligible to compete – it is a playable team with full kits, squads and commentary for EACH player! This has its own pitfalls as I couldn't help but laugh as Giovanni Trapattoni (Ireland's former manager) dances around after Ireland racks up a 3 goal lead over Italy.
EA Sports Talk Radio is a new inclusion underlining the games slick presentation in which you're given a choice of two chatty duos who'll discuss the tournament and soccer in general while you're navigating the warm, tropically colored menus. I've heard it compared to "idly listening to a football-themed podcast." It builds up that  ever-present feeling of excitement that you're taking part in the largest sporting event on Earth.
Strip back the flamboyant presentation and the core of the game remains virtually the same as FIFA 14 bar a number of minor changes. Penalties have been simplified to a tee. Meanwhile, headers, passes and through-balls have been significantly diminished. For passes to connect you need pin-point accuracy, often leading to drawn-out midfield scraps as both teams struggle to get full possession of the ball. 
The focus of the game is no longer exclusive to the tournament itself, but the qualification stages also. Lead your team to the finals by being either a manager, an individual player (it's a nice touch when a custom-created you scores a winning goal) or the traditional control of the full team. Whatever mode you choose, you'll be given opportunities to take part in live training exercises similar to the pre-match challenges in previous FIFAs  which increase your players' stats. A far from unwelcome addition but their appeal can waver once you begin escalating in the tournament – the last thing you want before you square off against Argentina in the semi-finals is a mandatory passing challenge.
A large point of contention I had for FIFA World Cup was its price point: coming in at €60 new in retail. While this isn't unusual for a AAA game like FIFA, it feels far too much for what could have easily been a €30 expansion. It lacks the major drawing point of Ultimate Team – the backbone of the FIFA franchise, and has a very limited shelf life. Once the World Cup is over and people begin to move on I suspect it will be largely impossible to find a populated multi-player server.
Beneath FIFA World Cup's dazzling presentation lies a game identical to its predecessors, and while this is far from a flaw some unwelcome tweaks transform the mid-field game into a sluggish war of attrition. The extraordinary detail involved in every team and stadium  is the jewel in FIFA's crown, however, one must question the price point for such a limited experience.
[easyreview cat1title="Arcade Verdict" cat1detail="2014 FIFA World Cup Brazil is an incredibly crafted football game, albeit a short-lived experience with a very high price point." cat1rating="7 out of 10″]