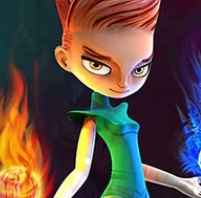 A Kickstarter campaign by Yanim Studios has managed to shake off the ghost of a failed April attempt and has reached it's goal in time with 8 days to spare and an extra $2,000 dollars so far! The adventure puzzle game Red Goddess allows players to take control a main character called Divine, the embodiment of a consciousness that controls the world around you and grants you abilities – fear governs ice, allowing you to play stealth while rage burns and allows you to shoot fireballs.
The first Kickstarter took place in April with the developers looking for $50k but failed to reach the goal! This time round they asked for $30K and it's been reached. The Kickstarter is still available to back and while the game is currently in pre-alpha stages, the team have slated it for a March 2015 release with the mission to have it available for Windows, Mac, Linux, PS4, PS Vita, Wii U.
Editor-in-Chief, part-time super villain and hoarder of cats. If you can't find me writing, I'm probably in the kitchen!