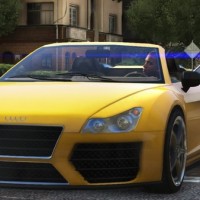 Charley Cullen from Meath is 11 years old and after his grandfather blacked out at the wheel of his car, took control of the situation. Charley grabbed the steering wheel pulling it back onto the road and out of the path of oncoming traffic, while making a turn, he crashed the car and fractured his skill. Despite his injury Charley helped his grandfather from the car and to his house. 
Speaking to 2fm presenter Brenda Donohoe Charley talked about the incident and where he learned to be so cool under pressure:
"The only way I had any experience was the Grand Theft Auto game. My main thing wasn't worrying about the car or that – the main thing was to wake papa up".
Charley and his family have since been invited by the FAI to attend an Ireland match of their choice as a reward for the 11 year olds bravery and actions.
Editor-in-Chief, part-time super villain and hoarder of cats. If you can't find me writing, I'm probably in the kitchen!