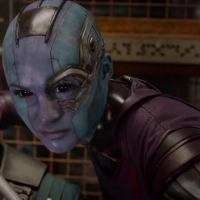 Guardians of the Galaxy New Trailer
Guardians of the Galaxy will hit cinemas worldwide on August 1 and it's the next step in developing the Marvel Universe. Peter Quill has stolen a mysterious orb and now there's a bounty on his head, to survive and uncover the true power of the power of the orb he is forced to team up with Rocket, Groot, Drax and Gamora and keep the powerful object falling into the wrong hands!
The film is written and directed by James Gunn, the film stars Chris Pratt, Zoe Saldana, Lee Pace, Djimon Hounsou, Glenn Close, Benicio del Toro, John C. Reilly, Karen Gillan, Gregg Henry, Bradley Cooper, Michael Rooker and Vin Diesel, so can you say pretty huge cast of talented people? The full trailer is here!
Editor-in-Chief, part-time super villain and hoarder of cats. If you can't find me writing, I'm probably in the kitchen!