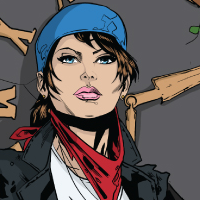 Graphic Novel Launch: I'm Awake, I'm Alive
Turncoat Press's would like to invite you to their launch of their new graphic novel "I'm Awake, I'm Alive", which is happening in Cork this Monday (June 2nd, Bank holiday)
Where: Upstairs in the Pavillion, Carey's Lane, Cork
When: Monday June 2nd
The graphic novel is an anthology of seven stories. It features an All Irish creators, most of them making their debut in the comic industry.
The stories are a wide mix of genres, from Western, Romance, Detective, Science Fiction and Superhero.
All the artists from the book will be on hand, sketching, drawing, painting and signing on the night.
As well as the seven stories, there is a pin-up section featuring work from Ireland's leading comic illustrators: Stephen Mooney (Half Past Danger) Eoin Coveney (Judge Dredd) Tommie Kelly (The Holy Numbers) and Paddy Lynch (Stray Lines).
The foreword for "I'm Awake, I'm Alive" is written by dubliner and writer of "2000AD", "Judge Dredd" and the Quantum Prophecy series of novels, Michael Carroll.
To top it all off, Turncoat Press are proud to feature a cover by Cork's own comic book legend Will Sliney.
Previews from the book here:
.