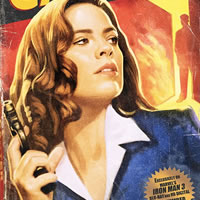 Agent Carter is a go and SHIELD gets renewed!
ABC have confirmed that Marvel's Agents of SHIELD will be renewed for a second season despite rollercoaster viewer ratings and disgruntled fans. More importantly though ABC have also confirmed that Agent Carter is really happening and it will follow on from the short filmed that was released alongside Iron Man 3 on DVD.
Hayley Attwell will reprise her role for Agent Carter but things have changed for her character. The war is over, it's 1946 and the men are returning from the war, Peggy is struggling to find her place in society and still grappling with the loss of her love, Steve Rogers. According to the Hollywood Reporter Agent Carter will act as a "bridge" between the SHIELD season breaks with their storylines eventually intertwining.
The series will air on ABC but with Marvel's partnership with Netflix we could see the new series finding a place in between the other soon to be Marvel projects planned for the service.
Editor-in-Chief, part-time super villain and hoarder of cats. If you can't find me writing, I'm probably in the kitchen!