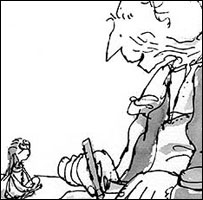 Roald Dahl is a household name when it comes to family-friendly fiction, and some of Hollywood's biggest and brightest have tackled his literary works for the big screen with Tim Burton (Charlie and the Chocolate Factory, James and the Giant Peach) , Danny DeVito (Matilda) and Wes Anderson (Fantastic Mr. Fox) having tackled only a selection of his novels. Coming from the Hollywood Reporter, it would appear Steven Spielberg is going to add to that list with an adaptation of Dahl's 1982 book The BFG.
According to the article, Dreamworks acquired the rights for the story of an orphan girl who befriends a giant back in 2011, but the adaptation has been in production limbo until now. Melissa Mathison, the screenwriter for a little film called E.T., has written the screenplay, while Marshall Mathison, Micheal Siegel and John Madden will co-produce.
The expected release date is early 2015.