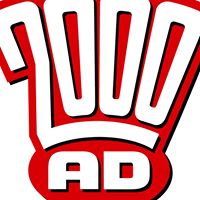 Review: 2000 AD – Prog 1878
Finally, Jaegir gets her chance on the cover of 2000 AD's Prog, and what a treat this week's cover art is. Created by story artists Simon Coleby and Len O'Grady, the movie-like feel of the front of this issue is one of the most eye-catching of recent weeks and perfectly accentuates the point the story is at so far. The contrasting colours work not only to add a commanding presence from the characters but also create a sense of urgency from this week's thrills; you NEED to know what's about to happen, seriously, you do. There is a healthy amount of cliché present, what with the piece fitting in nicely amongst 80's action film covers, but it is just that – healthy, and sometimes cliché is the most effective way to get the point across.
The John Wagner helmed Mega-City Confidential reaches its poignant climax first, with Max Blixen telling the world of Mega-City One the truth it needs to hear. I'll save the spoiler for you to actually read the issue, but while I think that the overall arc could have been a touch longer and more in-depth, the actual delivery has been very enjoyable. Biting social commentary can easily come across as over-zealous and ham-fisted if the setting and characters aren't crafted with it specifically in mind but biting social commentary is very much part of Judge Dredd's MO and in a story such as this where the resolve has obvious and glaring comparisons to current social issues, Dredd is one of the few who can get away with it with ease. By the end, there's a satisfying sense of cadence as there is both remorse and a sense of another day at the job. Considering the partnership of Wagner and artist Colin MacNeil on this story, old reliable is rarely more appropriate.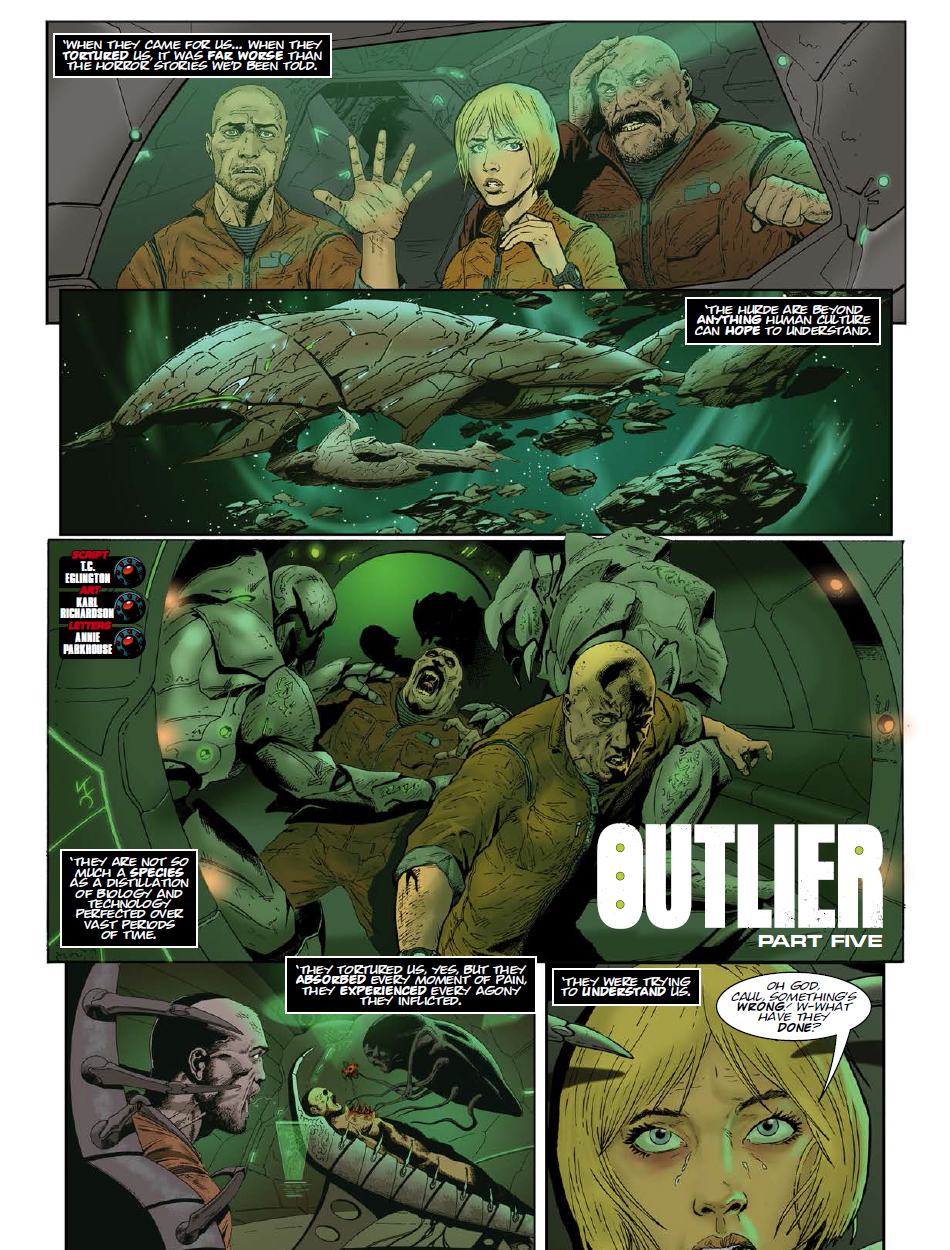 Just when you think it can't get darker, Outlier plunges itself even deeper down into the annals of sci-fi horror. Torture; pure, unspeakable, brutal torture. That is all the left-behind crew members of the Outlier were subjected to and then some as we see how the hurde operate. Being 'a distillation of biology and technology perfected over vast periods of time' leaves you with some grating questions on the human anatomy and the human mind, it would seem. The ensemble cast T.C. Eglington has constructed for this thrill are so very interesting and are consistently rubbing off each in just the right sort of ways it's really hard to predict what's coming next. Each perspective is equal parts interesting and fleeting and as the plot unwinds and spreads outward, my intrigue is only growing.
We had two stunning spreads in Sláine last week courtesy of Simon Davis and this week we're treated to a beautiful opening spread showcasing a, shall we say, polite disagreement between our heroes and their gloop enemies. The art has always taken a foreground spot with Sláine, but this is some of the best looking story-telling the thrill has seen in quite some time. Between the consistent colours, the watercolour-like texture and the off-kilter panelling, Sláine and co. could be having a quiet tea and a horse-ride and it would be mesmerising. They're not, however, and Pat Mill's script is slowly building a flowing narrative with the plot moving ever so slowly outward. When a story looks this good, they can take all the time they want.
I wanted action from Sinister Dexter last week and I wanted it even more for this week. Thankfully, they finally heeded my call with a massive shoot-out and some chaotic bullet-fueled cleansing as the best mercenaries this side of Generica take care of business. This is the kind of narrative Finnigan and Ramone excel at; quick, to the point action with a body-count only slightly higher than Finnigan's bad jokes. A slow burn just doesn't fit these boys – medicated doses of kicking ass is what they're good at and considering the kind of crazy folk they encounter here, you can see why. The pay-off has been worth the wait – just about.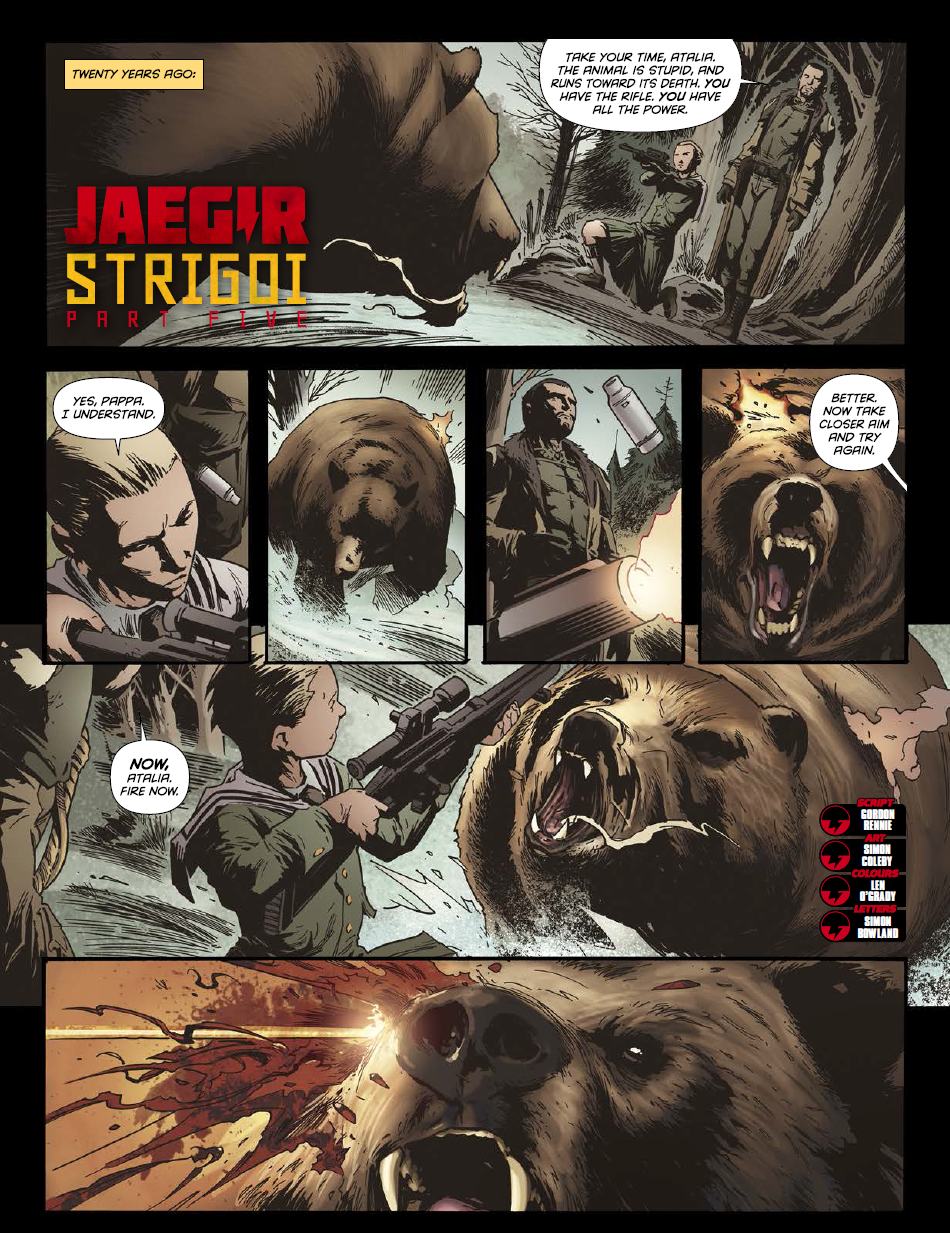 If ever there was a story worth picking up 2000 ad for right now, it's Gordon Rennie and Simon Coleby's Jaegir. The thrill is going from strength to strength as our heroine's past comes back to haunt and help her in equal measure and the game of cat-and-mouse reaches fever pitch. There's a great weight of history present though-out the narrative as every part we're given both historical context, which is growing more personal with each issue, and the importance of Jaegir's mission-at-hand evolves for both her and the 'greater good'. Consistently this thrill has been the treat at the end of the progs simply because it has proven to be just such a great story and the marriage of sci-fi and old-time values works as a welcome amalgamation of what's great amongst the current roster. Awesome stuff altogether.
2000 AD – Prog 1878 is available now.
[easyreview cat1title="The Arcade Verdict" cat1detail="Best issue since the jump on Prog, thrills are firing on all cylinders." cat1rating="10″]