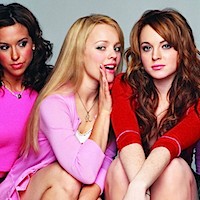 'On Wednesdays we wear pink' – Mean Girls 10th Anniversary
I believe without a shadow of a doubt that at some stage or another, every single person with access to a cinema, DVD player or Internet has seen Mean Girls in some shape or form! The movie exploded into cult classic and it's not hard to see why with memorable moments, fantastic characters and performances and quotes/gifs/meme that can see you through all manner of life situations!
In honour of Regina, Gretchen, Karen, Cady, Janis, Damian and Ms. Norbury and not forgetting the perils of High School Teen Comedies – these are the ten best things about Mean Girls!
10/Jungle Metaphors

9/The Burn Book
 
8/Carbs


7/Overbearing moms and pushy teachers


6/ Kevin G's Rap

5/ Aaron Samuel's Hair


4/Damian


3/Janis


2/Queen Bees and B*tches



1/Jingle Bell Rock
Editor-in-Chief, part-time super villain and hoarder of cats. If you can't find me writing, I'm probably in the kitchen!