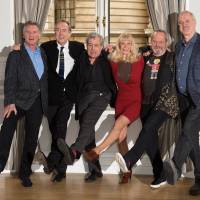 The five surviving Python's reunion in London's O2 Arena in July is among the greatest historical reunions of our time. John Cleese, Michael Palin, Eric Idle, Terry Jones and Terry Gilliam will be doing one last show for the road and laying Monty Python to rest when their ten show tenure in the O2 comes to an end on 20th of July.
Thankfully, now you don't need to be there to take part in the celebrations. Hollywood Reporter have revealed that Picturehouse Entertainment have grabbed the rights to screen the final night's show in theaters across the UK and the world. 450 in the UK have been booked while 1,500 theaters across the world will host the once in a lifetime event.
A statement from the 357 years young gang reads "Thanks to the wonderful invention of moving pictures, The Last Night of Monty Python is coming to a cinema near you. Join the crowd live from London's O2 in a final weepy, hilarious, uproarious, outrageous, farewell to the five remaining Pythons as they head for The Old Jokes Home… On the big screen, in HD."
Exact details for the screenings are expected to be released soon.