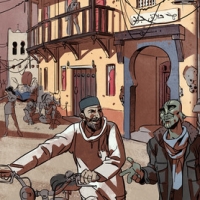 Kickstarter: Outcasts of Jupiter
Every so often when browsing Kickstarter, something really wonderful jumps out at you. This time it was Outcasts of Jupiter. Outcasts of Jupiter is a new, sci-fi adventure comic written by Shobo Coker and drawn by Shofela Coker.
After being in contact with the creators, we've learned that the pair grew up in Nigeria and then moved to the US and the Philippines. Living thousands of miles apart, Shobo and Shofela are still very close while working on this project. Shofela's the artist on the comic. He's handling pencils, inks, colors and letters. He lives in California and has worked as a character artist in film for Benthos Studios, and in games for Activision and Sony Online Entertainment, with credits for work on the Tony Hawk, Planetside and EverQuest game series. Shobo is writing the Outcasts of Jupiter comic book. He works as a marketing consultant and lives in Taguig, in the Philippines, he's also a writer and freelance illustrator.
I highly recommend checking out their Kickstarter and pledging as much as you can.