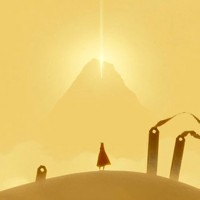 Austin Wintory's Journey soundtrack is among the most highly regarded video game soundtracks of recent times. The emotive, nuanced melodies work as a both a compliment to the stunning game itself and a stirring hour of music in it's own right.
Now, with the help of Laura Intravia and Robert Theis, the soundtrack has received a second life in Transfiguration; a piano heavy re-interpretation of six of it's tracks. Transfiguration has literally just become available exclusively through www.gamemusicbundle.com and can be purchased for a meager ten dollars which will also get 15 other albums. Yup, 15, including Austin' latest video game outing – The Banner Saga.
Transfiguration will be released on other platforms in two weeks once the Game Music Bundle has ended.