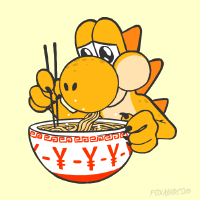 Five Favourite Food Games
You know I really wish games began with an 'F' purely for the sake alliteration in the headline! Moving on, it's Thursday and it's time for a list and in the spirit of gorging ones self on all kinds of delicious  things, this week the power of the list is dedicated to games about food – eating food, making food and delivering food! If you've skipped lunch or you're on a diet then maybe read this one with caution!
Bon appetit!
Cooking Mama
Released in 2006 for the Nintendo DS, Cooking Mama hit the middle of the road when it came to critics but it's simple style, colourful interpretation of the culinary arts and innocent charm didn't go unnoticed. Players use the stylus or their finger (finger probably not ideal for hygiene reasons!) to prepare vegetables, slice meat, mix, fry and dress their plate with their master/disaster piece!
If you fancy yourself a bit of a Jamie Oliver or Nigella Lawson (and I do!) then you're going to enjoy Cooking Mama but don't expect anything spectacular  unless of course your PETA and you believe the game endorses the slaughtering of animals! No seriously, Cooking Mama – Mama Kills Animals, was designed with promoting veganism and slamming the real game and the developers for using meat-based recipes! 
Diner Dash

Okay not so much about food as about delivering food, appeasing customers and keeping food service business ticking over, Diner Dash had to be included because at one stage or another we have all been bored enough to give it a go and ultimately getting ourselves hooked on it.
The 'casual' game is nearly ten years old, it has spawned sequels and made fans of even the most 'hardcore' gamers and why wouldn't it! Flo, our hero, is a hardworking young woman fed up with her 9-to-5 who follows her dream of owning her own restaurant chain and ultimately serve a Goddess (this actually happens in game!) in a heavenly restaurant.
Pac-Man
He's a fat little eating machine with a fear of ghosts, a love for pellets and a soft spot for fruit! He's one of the oldest gaming icons and he still hasn't managed to eat himself into a food coma! Okay look the food doesn't look that appetising but come on, this guy and his game had to make the list, he just never stops eating, he's my hero! Hell he even eats the guys trying to kill him – he's unstoppable!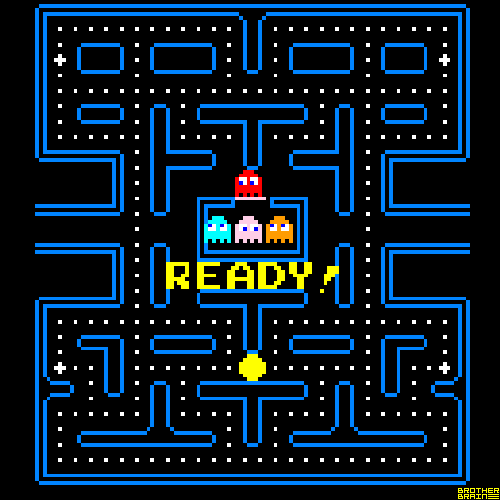 Zool
Developed in competition, Zool was a ninja sent to Earth to earn his stripes! It just so happens that the game also worked as a pretty blatant advert for Chupa Chups and that the first three levels were based in the Candy Zone. I should also point out that I never completed the third stage, why the hell would I? Leave Candy land… are you insane?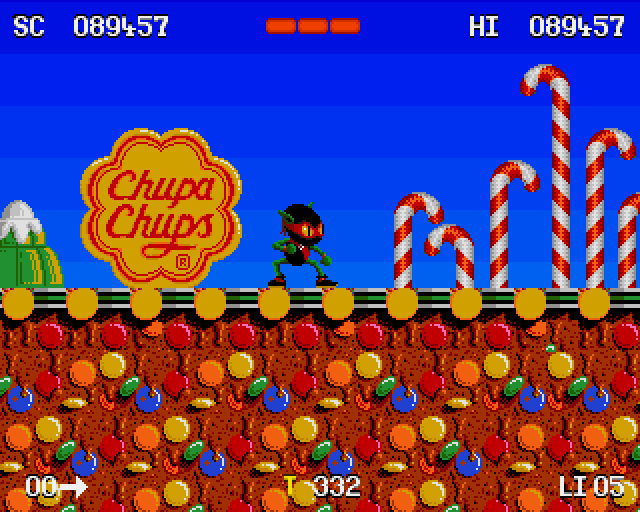 As you can see it was (still is) my idea of kid heaven with the ground made of chocolate cake, chocolate frosting dripping over the edges and a backdrop that would make Wonka's Chocolate Factory like a Diet Camp! Zool was  one of the first games I ever played and to this day I still have fond memories of my time amongst the candy… oh the game? What was it about? Not a frickin' clue… too much candy!
Every MMOPRG Ever!
Yes this is cheating but shhhh! From Warcraft to Guild Wars, Second Life and Final Fantasy XIV, cooking is a staple skill for any adventurer and while it's often overlooked for others like smithing, sewing etc. it has it's own perks! From enhanced strength, to replenishing life or even bartering rare dishes, cooking is for only those with the drive to create not just something palatable but also something practical! It tends to require a little more work, gathering ingredients and recipes all take time, too much time for most players but for those with the drive and passion, the end product is worth it!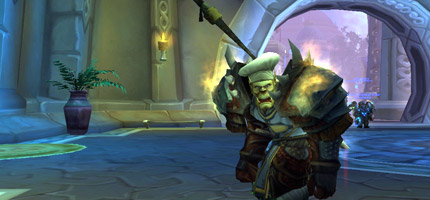 Now that's all out of the way, pass me the roast turnip and frothy goat's milk beer! Yum!
Honourable mentions: Yoshi, Kirby, Pizza Tycoon, Theme Park (Overpricing Park food and drinks was half the fun!)!
Editor-in-Chief, part-time super villain and hoarder of cats. If you can't find me writing, I'm probably in the kitchen!