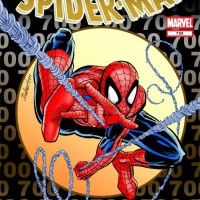 Marvel Announce Spider-Verse
Well wobble my webs and call me shakey!
Earlier today Marvel held a press conversation to announce that writer Dan Slott and artist Olivier Coipel are teaming up to create "Spider-Verse", a new event storyline kicking off in November's Amazing Spider-Man #9 which boasts a 5 page prelude in May's Guardians of the Galaxy Free Comic Book Day issue by Slott and Giuseppe Camuncoli and continuing into other related tie-in books this year.
The event was teased earlier last week with a huge character illustration by the ridiculously talented Gabriele Dell'Otto featuring Spidey, and a gang of other (I assumed to be Spidey) silhouettes hidden behind some webs. Today Marvel unveiled the complete image for our viewing pleasure, and frack me it's beautiful.
Word is there will be "1000's" of Spider-Men in this series, from the past, present and future, alternate universes and even some new ones Slott will be creating. I kinda predicted this (or something like it) was coming, when last week writer Brian Michael Bendis confirmed a sequel to his 2012 Spider-Men series had been "green lit" by Marvel. Slott says the original idea came from writing the 2010 Spider-Man: Shattered Dimensions video game (which, I replay ritualistically every 6 months because it's amazing) and wanting to expand the concept into the comics.

"We didn't want to sell anything short; if there is a Spider-Man out there, we wanted him in this, You don't want to hold back on any single guy, be it Spider-Man Fairy Tales, the Manga-Verse, whatever." – Dan Slott.
Seemingly the seeds were sown with a prophecy appearing in Amazing and Superior Spider-Man by the new Madame Web that says that all spiders would die. Leading to the reveal of the "initial" villain for Spider-verse, Morlun. Morlun made his first appearance way back in 2001 in Amazing Spider-Man #30 (Vol. 2) written by J. Michael Straczynski with John Romita Jr and returned in 2005's "The Other" crossover and actually beat Peter Parker to death … literally in ASM #526 an issue so good, I carried it around in my school bag for months and even brought to Greece on a school trip. It really was that good.
So Spider-Verse will not only see tons of alternate Spidey's visiting the 616 continuity, but will see Peter journeying into other realities too. With Peter only just making his way back into the world in April's Amazing Spider-Man #1, I can imagine coming back to Morlun trying to kill him and seemingly every other version of him won't sit well.
Also, just for fun (and because I can) I've managed to name each Spidey in Dell' Otto's poster. So from left to right we've got …
Spider-Man 2099, Wolf-Spidey, Spider-Man Noir, Earth X Spidey, Ghost-Spider, Kwaku Anansi, Prince Arachne, Captain Universe, Ben Reilly as the Scarlet Spider, Spider-Armour 2.0, The Spidey of 2211, Negative Zone Spider-Man, the Betty Brant Spider-Girl, Captain Spider, Ends of the Earth Spider-Armor, Ultimate Spidey (Miles), Peter Parker, what I believe to be Ben Reilly's Spider-Man suit, Secret War, Mangaverse, Spider-Ham, Spider-Man J, Iron-Spider, The Bombastic Bag-Man, Bruce Banner from Bullet Points, Spider-Monkey (*sigh), Spider-Carnage, Izumi, Black Suit Spidey, White suit Spidey from the FF, Ultimate Spider-Woman, Spider-Girl (May Parker), Spider-Woman (Jessica Drew), Scarlet Spider (Kaine), Man-Spider, Peter Parker's Last Stand, The Doppleganger from Maximum Carnage and let's not forget Spider-Girl (Anya Corazon)