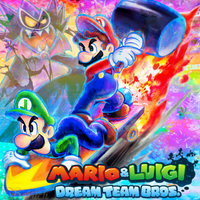 Nintendo have announced that starting this week, there will be special offers on a number of Luigi focused games!
These include:
Mario & Luigi Dream Team Bros. (3DS)  €39.99  €31.99

Super Mario Bros (original NES version for 3DS and WiiU) €4.99 €2.49
New Super Luigi U (WiiU) €19.99 €14.99
Hop onto the Nintendo eShop now to avail of these awesome offers! We've already picked up the original Super Mario Bros!
There's also been a few permanent price drops on the eShop, including:
Harvest Moon: The Tale of Two Towns (3DS) €29.99  €19.99
Beyblade Evolution (3DS) €29.99 €19.99
Keep up to date with all the official Nintendo announcements and exclusive new game information by following the official Nintendo UK Twitter feed @NintendoUK.