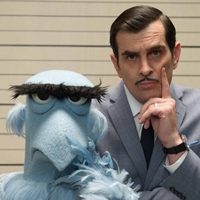 So March is coming to an end, and this means one thing: Summer blockbusters are beckoning. We aren't quite in blockbuster season YET but the bigger films of the year are starting to filter in. Captain America: Winter Soldier came out this week, as did The Muppets: Most Wanted, and both are sure to make their money in the box office. It's going to be interesting in the coming weeks to see what comes out on top as more big budget titles enter the fray. There are going to be unexpected failures and a lot of hefty competition for promotion space as each film tries to fill seats and make it's money back. In the end, we're the only winners as we're spoiled for choice for big films to check out. Anyway, onto my recommendations for this week!
The Good: The Muppets – Most Wanted
Director: James Bobin, Rating: G, Running time: 112 minutes
'Everything is perfect, everything is grand, I've got the whole wide world in the palm of my hand!' Ahem, sorry. No, actually, I'm not sorry. I shamelessly found myself singing this when I walked out of seeing the first one, and I've yet to re-watch it without singing along word for word. The Muppets made a stellar return in 2011 with a film that rejuvenated the franchise for a new audience while still retaining all of the wit and charm that made the muppets so timeless in the first place. Now, it's time to push forward and keep people singing and dancing and interested in what the Muppets have to bring to the table. The plot of this one is as simple for a Muppets film as ever; the motley crew decide to go on tour. That means lots of great show footage and crazy antics. James Bobin, David Hoberman, Todd Lieberman and Nicholas Stoller all retain their respective roles as director/co-writer, producers and writer, which I have no qualms about at all given how good the first one was.
The big change for this sequel is the change in human co-stars; Ricky Gervais (The Office), Ty Burrell (Modern Family) and Tina Fey (30 Rock) have all been recruited to decided if they are men, or if they are Muppets. This is a regular feature of the Muppets films – they rarely carry over cast members from film to film. I think stylistically we're going to a bit more adult humor in this one – the last one was great, but very safe, and the Muppets are an entity capable of making very suggestive jokes and quips without ever pushing the family-friendly boundaries. The biggest blessing for this sequel, in my humble opinion, is Bret McKenzie making a return as the music supervisor. Expect to be singing these tunes for days, folks.
The Bad: The Legend of Hercules
Director: Renny Harlin, Rating: 15A, Running time: 99 minutes
Have you ever seen Die Hard 2? I'm serious, have you ever seen it? It's awesome, isn't it? Pure action classic, start to finish. Now, Renny Harlin directed that, and he also directed The Long Kiss Goodnight, a Geena Davis helmed thriller that's one of my absolute favorites in the genre. He's a director whose had a mixed career, but his highs have been dam high. It's quite a shame then that in 2014 he's been reduced to directing the kid brother of the two Hercules films due this year, the one that stars Kellan Lutz and whose producer is Boaz Davidson, one of the producers on 2006's The Wicker Man. Yes, THAT Wicker Man. The Legend of Hercules is just diet everything that is wrong with blockbusters today. It stars a Twilight hunk whose yet to act in something that would require him to act, it features slow-motion action even though the only film to get away with that has been The Matrix, the story-line is a very standard wronged-hero versus tyrannous king with a love interest in the middle.
It doesn't have the budget of 300, the star power of the other Hercules coming out this year, which is frankly ludicrous that two films are coming in the SAME YEAR about the SAME CHARACTER that are TOTALLY UNRELATED, or the production staff of either because they were busy making those movies. Avoid. Watch the other one with the Rock coming out in the Summer.
The Anto: Phantasm
Director: Don Coscarelli, Rating: 18, Running Time: 88 minutes
So, I told you I would occasionally be dipping into some classics in this slot from time to time, well, this is the first time for that. Phantasm V was announced today, and it looks freakin' AWESOME in a totally cheesey horror kind of way. We've been waiting 16 years for a sequel to Phantasm IV, and finally we've gotten one, and by we, I mean die-hard horror fans. Anyway, as a result, I've decided it's time to jog my memory of the series, starting with the first one, of course. I haven't watched these since I was 17, and I don't think I've ever watched 3 or 4 sober, so that'll be an adventure. Written/Directed/Produced in true independent cinema style by Don Coscarelli, Phantasm is the story of the Tall Man, a supernatural undertaker of sorts who turns the dead into zombies to try and take over the world with these giant silver orbs. I'm sold on zombies already, the rest is just extra wacky goodness as far as I'm concerned. Angus Scrimm is legendary as the Tall Man, having played him in every Phantasm film. I remember this being a very odd number, there's a great dream-like feeling to this film, Coscarelli really wanted to emulate the idea of reality and the supernatural combining together and questioning what's real and what isn't. There are very few films made like this any more, last year's Upstream Colour had some odd sequences, and Thanatomorphose in 2012 had some weird narrative choices too, but truly Phantasm is a very distinctive watch, and I look forward to doing it again with some tea and biscuits.
As always, let us know what you end up watching, if anything, in the comments and if you'd recommend it! 'Til next week folks, same Arcade time, same Arcade channel!